DRILLBITS – November 2017
In This Edition
Recurring Items
Sign Up For the DRILLBITS Email Newsletter!
Advocacy

Senate Energy and Natural Resources Committee Advances Drilling in the Arctic National Wildlife Refuge
On 15 November, the Senate Energy and Natural Resources Committee voted on legislation that would open parts of the Arctic National Wildlife Refuge (ANWR) to oil and gas development. It was approved with a vote of 13-10. In response, IADC President Jason McFarland issued the following statement:
"Opening a portion of ANWR to oil and gas development and production represents an extraordinary opportunity to responsibly develop the vast resources that the area is believed to contain. The legislation would require the Secretary of Interior to hold two lease sales over a seven-year period following enactment and to offer at least 400,000 acres of land in ANWR for lease at each sale. This will create jobs and raise revenue as the Congressional Budget Office estimates the legislation would raise 1.1 billion over the next ten years. And, it would help achieve the U.S. goal of being energy dominant, allowing the country to develop more of its own natural resources, and rely less on foreign oil. IADC members are encouraged by today's vote, and IADC remains committed to serving as an educative resource on responsible and environmentally sustainable issues related to drilling activities in the U.S and internationally."
IADC Supports H.R. 4239, the SECURE American Energy Act
In comments submitted on 6 November to the U.S. House Natural Resources Committee, IADC affirmed its support for H.R. 4239, the Strengthening the Economy with Critical Untapped Resources to Expand American Energy Act (SECURE Act). Seven other oil and gas industry associations joined in on the letter to urge Chairman Bishop and Ranking Member Grijalva to swiftly enact the legislation.
"The SECURE Act serves to encourage further development of our nation's abundant natural resources. The Act would eliminate many of the burdensome bureaucratic roadblocks that currently prohibit industry from accessing the proven oil and natural gas reserves in the U.S.," said Jason McFarland, IADC President. "Additionally, provisions included in the Act would provide for revenue sharing among the coastal states who host production off their shores. Most importantly, it sends a clear signal that the U.S. is serious about its stated goal of energy independence and that it is committed to an industry that not only powers our homes and cars, but also contributes billions to the economy."
The comments, signed by IADC, along with the National Offshore Industries Association, American Exploration and Production Council, American Petroleum Institute, Independent Petroleum Association of America, U.S. Oil and Gas Association, International Association of Geophysical Contractors, Petroleum Equipment & Services Association, can be found on IADC's Advocacy Website.
Washington D.C. Updates
House:
The U.S. House passed a dozen bills in November, including the 21st Century Flood Reform Act (flood insurance), the National Defense Reauthorization Act and most likely of note, the Tax Cuts and Jobs Act (tax reform).
Senate:
The U.S. Senate confirmed over a dozen nominations in November, but did not pass any legislation.  It is expected to pass its version of tax reform by the end of the month.  Once the Senate passes its tax reform bill, a conference committee will convene to address the differences between the House and Senate passed tax measures.  One particular item of note, the Senate Energy and Natural Resources Committee passed out of committee a provision to open ANWR as a $1 billion revenue raising measure to help pay for tax reform legislation.
White House:
The President issued a few proclamations for November, but did not issue any new Executive Orders.
INDUSTRY NEWS
Ensco's Steven Brady Elected as 2018 IADC Chairman
The IADC Board of Directors elected Steven Brady, Senior VP – Eastern Hemisphere of Ensco, as its 2018 Chairman on 9 November. In addition, Kevin Neveu, President and CEO of Precision Drilling, was elected as Vice Chairman. Scott McReaken, CEO and Director of Sevan Drilling, was reelected as Secretary/Treasurer.
For the IADC Division posts, Terry Bonno, Senior VP Industry and Community Relations for Transocean, will serve as VP of the Offshore Division. Mike Garvin, Senior VP of Operations Support at Patterson-UTI Drilling Company, will continue to serve as VP of the North America Onshore Division, while James Thorn, Chief Commercial Officer with Egyptian Drilling Company, was elected as VP of the International Onshore Division. For the Drilling Services Division, Lee Womble, VP Sales – Drilling Systems with Cameron, a Schlumberger company, will lead as VP.
Mr Brady joined Ensco in 2002 and was appointed to his current position of Senior Vice President – Eastern Hemisphere in December 2014. Prior to his current position, Mr Brady served as Senior Vice President – Western Hemisphere, Vice President – Europe and Mediterranean, General Manager – Middle East and Asia Pacific, and in other leadership positions in the Eastern Hemisphere. Prior to joining Ensco, Mr Brady spent 18 years in various technical and managerial roles for ConocoPhillips in locations around the world. He holds a Bachelor of Science Degree in Petroleum Engineering from Mississippi State University.
 Thomas Burke Honored as IADC Contractor of the Year
During the IADC Annual General Meeting in Austin, Texas on 10 November, IADC presented Dr. Thomas Burke, President and CEO of Rowan Companies, with the 2017 IADC Contractor of the Year Award.
The award is presented annually to recognize an individual drilling contractor's outstanding lifetime achievements in technical innovation, safety and economic efficiency within the drilling industry. Sponsored by National Oilwell Varco, the award, now in it's 30th year, is the only one in the industry reserved solely for drilling contractors.
In his acceptance remarks, Dr. Burke noted, "It's been an absolute delight to be involved with IADC. What's special about our industry is that it's highly competitive – being competitive is important, it makes us all better and change with the times – but it's also a collaborative industry."
Dr. Burke was appointed CEO and elected a director of Rowan Companies in April 2014. He served as Chief Operating Officer beginning in July 2011 and was appointed President in March 2013. He first joined the Company in December 2009, serving as CEO and President of LeTourneau Technologies until the sale of LeTourneau in June 2011. From 2006 to 2009, Dr. Burke was a Division President at Complete Production Services, an oilfield services company, and from 2004 to 2006, served as its Vice President for Corporate Development.
In addition, he has been active in IADC for several years, serving as the association's Chairman in 2016.
IADC Presents Exemplary Service Awards to Industry Veterans
During the IADC Annual General Meeting in Austin, Texas in early November, IADC presented industry veterans Dan Scott, Jorge Lebrija and Andy Poosuthasee with Exemplary Service Awards. The awards recognize their outstanding contributions to the industry and to IADC. Recipients of the Exemplary Service Award have, through the course of their careers, demonstrated their commitment to improving the drilling industry and advancing its safety, training or technology.
Mr. Scott, who is retired, most recently served as Senior Technical Advisor for Baker Hughes, a GE company. He has spent his career developing innovative products and processes for bits, and other downhole drilling tools. He holds 140 US patents and is recognized as one of the most prolific inventors in the history of Baker Hughes, receiving the BHI D&E Inventor of the Year in 2010, 2011 and 2012 and recognized as the 2017 Inventor of the Year by the State Bar of Texas. Mr. Scott has published more than 65 papers and written book chapters on drill bits and drilling technology for several entities, including the IADC Drilling Manual. He is a distinguished member of SPE, an ASM Fellow, recipient of the ASME Silver Patent award and recipient of the Chairman's Lifetime Technology Achievement from BHI. He serves on the MS&T Petroleum and Geology Advisory Boards and was inducted into the Academy of Mines and Metallurgy at MS&T. He served 26 consecutive years on the IADC/SPE Drilling Conference Program Committee and currently serves on the IADC Drilling Engineers Committee Board. Mr. Scott has also contributed several articles to Drilling Contractor magazine. He currently serves as Vice Chair of the 2017 SPE Annual Technical Conference and Exhibition and will be Program Chairman in 2018.
Mr. Lebrija is the Director of Supply Chain, Global Sourcing for Ensco. Prior to joining Ensco, he held multiple supply chain, sourcing and procurement leadership positions within Baker Hughes, Transocean and Cemex. Mr. Lebrija is currently the Chairman of the IADC Supply Chain Committee and has participated in the committee since its creation in 2013. Additionally, he led the Manufacturing Record Book Subcommittee and, by working together with the primary OEMs, classification societies and offshore drillers, the group was able to standardize the format for the manufacturing book records and publish the first IADC Manufacturing Record Book Guidance document. He graduated from the Instituto Tecnologico y de Estudios Superiores de Monterrey with a Bachelor's degree in chemical engineering and earned an Executive MBA from the University of Houston.
Mr. Poosuthasee graduated with a bachelor of science in industrial engineering, with a minor in Spanish, from Purdue University. He then worked for Halliburton for eight years in a variety of roles, the most prominent of which was managing manufacturing plants/business units. He has spent the past six years with drilling contractors, with the last four years as the Director of Supply Chain for Vantage Drilling, reporting to the Chief Operating Officer. He is responsible for all procurement, logistics, customs, warehouse and inventory activities globally. In addition, he has served two terms as Co-Chairman of the IADC Supply Chain Committee.
U.S. Bureau of Labor Statistics Releases Employer-Reported Workplace Injuries and Illnesses-2016
The U.S. Bureau of Labor Statistics (BLS) recently issued its Employer-Reported Workplace Injuries and Illnesses – 2016 report. It is the first in a series of two from BLS covering occupational safety and health statistics for the 2016 calendar year. In December, the BLS will provide data from the Census of Fatal Occupational Injuries (CFOI) of all fatal work injuries occurring in the U.S. during the calendar year.
The CFOI uses diverse state, federal and independent data sources to identify, verify, and describe fatal work injuries to ensure that counts are as complete and accurate as possible. The BLS claims that all statements of comparison made within the report were found to be statistically significant at the 95% confidence level. Also according to the BLS, finance and insurance was the only industry secotr in which the TRC rate increased in 2016.
For more information and to access the report, please visit the BLS website.
Independence Contract Drilling Hosts Rig Tour for TAMU IADC Student Chapter
International Regulators Forum Posts New Articles
The International Regulators Forum (IRF) recently posted two new articles on its website. They include:
2017 NOVEMBER – WorkSafe NZ, Asset Integrity. Reports on An IRF working group, led by WorkSafe New Zealand, that developed an Asset Integrity Template that could be used by regulators globally. The North Sea Offshore Authorities Forum (NSOAF) has successfully worked in this area also. The IRF agreed NSOAF will trial their template in Europe in 2017 and 2018 and report back on findings. The IRF will trial the Asset Integrity Template through 2018 to gather information in this area and as regulators identify common areas of concern the industry are facing and the regulators can focus on.
2017 OCTOBER- NOPSEMA, Dynamic Positioning. Since 2016, Australia's National Offshore Petroleum Safety and Environmental Management Authority (NOPSEMA) has been raising concerns with the offshore petroleum industry regarding dynamic positioning (DP) systems, and the susceptibility of its 'auto position' mode to be inadvertently deactivated. This concern originated from a reported incident in June 2016 where a vessel facility drifted off location as a result of human error while a diver was working on the seabed. Nobody on board the vessel was aware that the DP system had been deactivated. Rather than being an isolated incident, NOPSEMA is now aware of 16 similar 'loss of position' incidents internationally and each of these incidents had the potential to result in loss of life or other major accident event.
Proposed Revision of ISO Standards Related to Jack-Ups
IOGP's Standards Solution recently circulated proposals for the revision of ISO 19905-1, Petroleum and natural gas industries- site specific assessment of mobile offshore units – Part 1: Jack-ups; and ISO/TR 19905-2, Petroleum and natural gas industries – site-specific assessment of mobile offshore units – Part 2: Jack-ups commentary and detailed sample calculation. Also circulated was a proposal for developing a new part to the ISO 1905 series, Petroleum and natural gas industries – Site-specific assessment of mobile offshore units – Part 4: Jack-ups; emplacement and removal at a site.
Specific information on each of the proposals is below:
IOGP Standards Solution – Jack-ups: Site-specific assessment. ISO 19905-1, Petroleum and natural gas industries — Site-specific assessment of mobile offshore units — Part 1: Jack-ups.
The working group has identified several topics that justify the revision. The working group would like to prepare the DIS version of the third edition of ISO 19905-1 under the umbrella of the IOGP Standards Solution and offer this version for 'fast-tracking' to ISO/TC 67/SC 7. Nomination of additional experts to participate in this work is welcomed. The proposal for the work will be considered approved absent objections by 19 December 2017.
IOGP Standards Solution – Jack-ups: Commentary and sample calculation for site assessment. ISO/TR 19905-2, Petroleum and natural gas industries — Site-specific assessment of mobile offshore units — Part 2: Jack-ups commentary and detailed sample calculation.
In view of the proposed revision of ISO 19905-1, the working group intends to prepare an update ISO/TR 19905-2 in parallel in order to keep both documents aligned. Similar to the revision of ISO 19905-1, the working group would like to prepare the DTR version of ISO 19905-2 under the umbrella of the IOGP Standards Solution and offer this version for balloting to ISO/TC 67/SC 7. Nomination of additional experts to participate in this work is welcomed. The proposal for the work will be considered approved absent objections by 19 December 2017
IOGP Standards Solution – Jack-ups: Installation and removal at a site. Proposal for developing a new part to the ISO 19905 series (future part 4), Petroleum and natural gas industries — Site-specific assessment of mobile offshore units – Part  4: Jack-ups: emplacement and removal at a site. Similar to the other parts of ISO 19905, the technical panel with responsibility for developing this part would like to prepare the DIS version of the new future ISO 19905-4 under the umbrella of the IOGP Standards Solution and offer this version with the intent of 'fast-tracking' to ISO/TC 67/SC 7. Nomination of additional experts to participate in this work is welcomed. The proposal for the work will be considered approved absent objections by 19 December 2017
For additional information on the proposals, or on how to participate, contact Alan Spackman at Alan.Spackman@iadc.org or Jim Rocco at Jim.Rocco@iadc.org.
U.S. National Academies of Sciences, Engineering and Medicine Begins Study to Review and Update BSEE Inspection Program
The U.S. National Academies of Sciences, Engineering and Medicine (NAS) recently began a study to review and update the Bureau of Safety and Environmental Enforcement (BSEE) Offshore Oil and Gas Operations Inspection Program.
The Committee held its first meeting in support of the project, which is expected to last 21 months, on 26-27 October. The committee met with senior officials from BSEE and the Coast Guard, the Center for Offshore Safety, Arena Offshore and Fieldwood Energy.
The Committee will offer findings and recommendations to BSEE regarding the following questions:
What should be the goal of BSEE's inspection program?
How can inspections be modified to focus on risk and enhancing safety in addition to ensuring compliance, and what additional data are needed to achieve this end?
What can BSEE learn from the inspections programs of other offshore regulators in countries such as Norway, the United Kingdom, Australia, and Mexico?
What is the appropriate role for independent third parties in determining compliance with requirements and verifying that companies are conducting activities in accordance with their SEMS and associated management documents; how does the regulator ensure that third parties are acting appropriately in the public interest; and how can BSEE's inspector staff's work and budget be reallocated to enhancing safety?
What is the appropriate role of remote monitoring and other safety-enhancing technologies regarding inspections?
What should be the principal features of the inspection program in 5 years and 10 years?
What competencies would inspectors require in a revised regime, what kinds of training for the existing staff would be needed, and what types and competencies would BSEE need to recruit to match its staff to appropriate competencies?
Committee members include Dr. Gregory Parnell (chair); Dr. Lori S. Bennear; Dr. Claudine S. Bradley; Mr. Paul G. Bradley; Dr. Cary Coglianese; Dr. James S. Dyer; RADM Thomas H. Gilmour; Mr. Richard Sears; Mr. Robert Sheppard; Mr. Manuel Terranova; Dr. James M. Tien; and Mr. Peter K. Velez.
ISO Launches Operating Management Systems Standard for the Oil and Gas Industry
On 24 November, ISO's Technical Management Board approved the launch of ISO/TC 67, a new project for a sector-specific standard for the implementation of an integrated management system that is provisionally identified as ISO 29010, Petroleum, petrochemical and natural gas industries – Sector-specific operating management system – Requirements with guidance for use. IOGP intends to inform the ISO/TC 67 Secretariat of its intent to undertake this work using the IOGP Standards Solution. ISO/TC 67 members will be invited to nominate experts to participate in this work.
SafeLand Committee Meets to Discuss SafeLand Orientation Curriculum
On 16 November, the SafeLand Committee met and discussed several industry proposals, including the necessity of a refresher course for SafeLand orientation. IADC's position has been that a refresher requirement for an orientation class is unnecessary. After thorough debate, it was decided by unanimous vote that a SafeLand Refresher course will not be required by the Committee. However, there still may be requirements by some E&P companies to mandate this requirement. The Committee also voted on a review of the present curriculum for SafeLand, to be done by a review panel, with recommendations for any curriculum changes to be made to the committee for future orientations.
IADC will continue to participate with the SafeLand organization and will solicit member direction on any future critical initiatives discussed within the committee. The next meeting is scheduled for 11 January in Houston, location to be determined.
ACCREDITATION
IADC Competence Assurance Program to be Updated
Competence Assurance is a crucial part of the employee development process.  Having competent employees helps to assure the safety of employees, assets, and the environment.  These are some of the reasons the industry worked collaboratively to develop IADC's Competence Assurance Accreditation and Guidelines for Building a Competence Program.  IADC and industry understand and embrace the need for continual improvement in an ever-changing industry and are working on making the Competence Accreditation better.
The Accreditation Division is currently working with industry and IADC Competence SME auditors to grow the program and include new industry best practices.  Working together to share strengths from the various programs will help raise the bar on competence across the industry.  The new accreditation handbook with enhanced requirements is anticipated to be released in Q1 2018.
For more information about the Competence Assurance program, please visit the IADC Accreditation website. For questions, please contact Brooke Polk at Brooke.Polk@iadc.org.
IADC WellSharp Now Available in Arabic
The online exam for IADC's well control training and assessment program, WellSharp, is now available in Arabic. The Arabic translation is now available to all training providers. The exam was previously translated into Portuguese and Spanish, and it will also be available in Mandarin later this year.
WellSharp, introduced in 2015, is a rigorous well control training and assessment program that offers content on prevention, situational awareness, barriers, barrier management, and risk awareness and management. It encourages blended learning to enhance the quality and value of the training, with required independently proctored electronic knowledge assessments and enhanced simulator exercises.
For more information about WellSharp, please visit the IADC Website.
IADC COMMITTEES
IADC HSE Committee Seeks Nominations for Committee Chairman
The IADC HSE Committee is seeking nominations for an individual or individuals to serve as chairman or co-chairman of the Committee for 2018. The co-chair option is typically split between an onshore and offshore contractor. Any officer role in this committee must be filled by a drilling contractor representation.
For further information, to volunteer, or to nominate someone, please contact Rhett Winter at Rhett.Winter@iadc.org
DEC presentations on "Extreme Drilling" available
Presentations from the Q4 IADC Drilling Engineering Technology Forum "Extreme Drilling" are now available on line. The even was hosted by Baker Hughes, a GE company, on 15 November.
Click here to view and download the presentations.
IADC Advanced Rig Technology Will Host Spark Tank Meeting on 6 December
The next Advanced Rig Technology Spark Tank Meeting will be held on 6 December at 8:30 a.m. at IADC's headquarters in Houston. The Spark Tank represents a strong opportunity to provide technology entrepreneurs a new opportunity to pitch their products and ideas to a panel of drilling contractors and operators, or "sharks".
Representing the "sharks" at the 6 December meeting will be Kelli Fereday, Director of Subsea Wells, BP; Alan Quintero, Chief Technology Office, Board Member, NACD Governance Fellow, Rowan Companies and Keith Lynch, Wells Operations Advisor – Unconventional Assets, ConocoPhillips.
The Spark Tank presentations include:
"SaferUnion": Rae Burrows & Will Broussard, R&H Machine
The SaferUnion was a concept of a person who worked on an offshore drilling rig for many years. He wanted to have hammerless union. His concept was a hex design with eight 1-1/4″holes,1-1/8″ deep with a 1/4″ diameter lock pin to secure the SaferUnion Bar. R&H took the prototype and designed it into a usable oilfield product, and redesigned the Bar for easier operation. The 2″ SaferUnion weighs less than a 2″ hammer nut by approx. 1.24 lbs. All the SaferUnions we manufacture are sour gas rated, 4130 mod (ASTM A732). We have run many tests on the SaferUnion.

ACCEPTANCE CODE: Hydrostatic test. the simulation of real time field conditions. (Any leakage or loss of pressure would result in failure). We brought in two frac pumps and tanks and plumbed it with SaferUnion's and tested all day 250 lbs. to 10,750 lbs. in various cycles with a 30 lb. choke
 
Results were no leakage of pressure on any SaferUnions.

Other types of tests we have run on the SaferUnion are 1. Nitrogen tested to 10,000 lbs. 2. Destruction test, pressured up to 50,000 lbs. and held for 3 minutes 3. Comparison torque test with hammer nut, SaferUnion was 200 lbs. tighter We also have designed a Torque Bar to tighten to a given torque.

The SaferUnion is better for employees in extreme conditions, hot or cold, and it takes less applied energy to tighten or loosen.
"Drilling Automation – Intelligent Drilling Controls": Marat Zaripov, DataJudo
Business Summary:
Our mission is to accelerate the transition of the drilling industry to fully autonomous operations worldwide
AI Driller is our platform to enable autonomous drilling operations on land and offshore by leveraging subject matter expertise, technology, and data
Our plan is to roll out series of drilling modules incrementally (in phases) with driller-assist features assuming more responsibility over time
Customer Problem:
Human error and safety are major risks of scaling up the drilling operations
Hard to maintain the same level of drilling efficiency across the entire fleet
Product/Service:
Automated Slider – automatic control for sliding with drilling motor
ROP Enhancer – automatic control over drilling parameters
Guidance System – automatic directional control according to the plan
Cloud-Based Backend for offset well analysis and SaaS for Operators
Target Market:
Onshore shale drilling contractors and operators
Customers:
Drilling contractors and Control systems providers to gain competitive advantage
Operators to streamline the drilling process and achieve desired efficiency levels
Directional drilling service providers to reduce field personnel required
"Real Time Early Kick Detection (EKD) in Marine Risers": Kirk Cottrell, KnowFlow Systems Inc.
Early Kick Detection (EKD) is critical to mitigating the impact of kicks and fluid loss, among the wellbore pressure-related incidents that cost the oil and gas industry billions of dollars a year and compromise the safety of drilling personnel. Applicable in any drilling environment, our EKD services are especially pertinent when there is a predetermined kick/loss risk or when there is a margin of uncertainty concerning pore pressure or fracture gradient, as typically is the case with exploration wells, as well as known development fields.
What is the KnowFlow System?
Patented technology United States and PCT
First technology ever developed to independently measure Real Time Bi-Directional flow in a marine riser
Flow is measured in Real Time down to a minimum flow rate of 0.1BPM
System functionality is not affected by rig motions: heave, pitch and roll
Flow determination unaffected by drilling or completion fluid type or properties
Flow determination is not affected by type of rig operation
Simple to utilize and easy to understand
Real Time reporting available to all designated personnel
The KnowFlow System was designed to prevent future well control and LOWC incidents across the entire offshore industry. Prevent loss of life, damage to property and environmental damage. The safety factor associated with the KnowFlow System is unparalleled in the industry.
"IIoT in Oil and Gas": Kurt Pedersen, Flutura Business Solutions
We live in interesting times, where a confluence of ground-breaking technologies bundled with next generation business models are poised to transform the Oil and Gas industry. It's history in the making. This convergence of digital technologies (IIoT, Artificial Intelligence, autonomous self-healing assets, drones etc.) are creating entirely new ways of operating a producing well and massively transforming outcomes like increasing production and decreasing non-productive time. What are some real world examples of this transformation and what are the learnings from the trenches for executing digital transformation in O&G field?
During this session, we will walk through three real world oil and gas digital transformations powered by Flutura's Cerebra platform. These are examples of transformations that are solving real world problems. 4 game changing features of Cerebra include:
Deep learning AI algorithms which can see anomalies a human misses.
Video Analytics using CNN networks which can detect HSE events on rig like walking without hard hat, pinpoint area event detection etc.
"Siri for Industrial world": Essentially you have a reliability engineer in your pocket whom you can talk to diagnose the health of an industrial asset.
AR/VR model which can facilitate collaborative troubleshooting remotely in real time of an upstream industrial asset in 3D
More information, along with the full agenda and registration details, can be found on IADC's website.
 INDUSTRY RESOURCES
IADC Well Control Conference of the Americas Rescheduled
The IADC Well Control Conference of the Americas has been rescheduled for 6-7 December at the original location, Moody Gardens, in Galveston, Texas. The event, which was initially supposed to be held in August, was cancelled due to Hurricane Harvey.
To register or view more information about the rescheduled conference, please visit the IADC Events website.
Drilling Contractor Yearbook 2017 now available as eBook
All issues of Drilling Contractor, IADC's official magazine, for 2017 are now available as a single, easily downloadable eBook is now available from www.IADC.org/ebookstore.
Drilling Contractor is the definitive source for the global drilling industry, both land and offshore, and the only viable magazine exclusively covering this space. The DC Yearbook 2017 presents every article, column, and advertisement published during the year.
The easy to download eBook is convenient reading while traveling, on the go, or at the office. It's a great way to reference and research technical articles, thought pieces by industry leaders, IADC initiatives, editorial, markets, and more. The Yearbook is bookmarked by each of the year's six issues.
Once the PDF is downloaded, no Internet connection is required to read the eBook. Downloading is a 2-3-minute process, and the eBook can be installed on up to six devices owned by the eBook purchaser.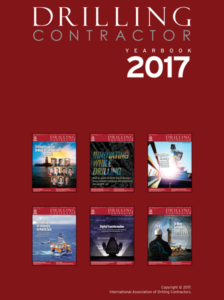 Click here to review and purchase the 2017 DC Yearbook.
Register for VPD "Today's Digital Oilfield: Dangers and Opportunities"
Tomorrow is here today, and the digital oilfield is already impacting drilling operations in ways good and bad. This virtual panel discussion, airing 9 January, 2018, will explore the risks and benefits that can accrue from these cutting-edge technologies.
Cybersecurity is a major topic, not just for our industry, but for virtually anyone who touches the Internet. Siv Houmb, CEO of Secure-NOK, and Chair of the IADC ART Cybersecurity Subcommittee, will walk us though the real risk of a cyberattack on drilling assets, motivations behind possible attacks, regulatory initiatives, potential solutions, and more.
While the bogeymen of cyber-villainy are real and insidious, the upside of digital technology holds great promise for improved efficiencies. One of the most promising is block chain, the technology behind the burgeoning global Internet currency bit coin. Andrew Bruce, CEO of Data Gumbo, will detail the potential for block chain in oil and gas, including smart contracts that can remove time, expense, and mistrust.
Panelists:
— Siv Hilde Houmb, CEO, Secure-NOK, and Chair, IADC ART Cybersecurity Subcommittee
— Andrew Bruce, CEO, Data Gumbo
— Mike Killalea, IADC Group Vice President/Publisher (moderator)
This virtual panel discussion will air at 10.00 CST on Tuesday, 9 January 2018.
Click here to register.
IOGP Announces Publication of IOGP Report 580
IOGP recently announced the publication of IOGP Report 580, Understanding induced seismicity associated with oil and natural gas operations. The report frames the topic on induced seismicity and is an informational and educational tool primarily aimed at regulators and technical audiences. The report also contains a Q&A section to respond to stakeholders' most frequently asked questions and will help support advocacy efforts.
The report can be accessed via the IOGP Bookstore.
Updated IADC International Offshore Regulatory Summary Report Now Available
IADC recently updated the International Regulatory and Standardization Activities Affecting the Offshore Oil and Gas Industry report. The report provides a reference on international regulatory and standards development activities of various organizations that have the potential to affect offshore oil and gas operations.
The report can be accessed on the IADC Advocacy webpage. Questions regarding the report can be directed to Jim Rocco at Jim.Rocco@iadc.org.
Everyday Hydrocarbon Products Showcased in Drilling Matters
New modules on IADC's DrillingMatters.org provides details the myriad products both trivial and critical that are based on hydrocarbons, and showcasing the industry's solid environmental record. In addition, DrillingMatters.org now features an improved interactive drilling rig, allowing users to point and click and learn more about key drilling components. Also, a new glossary provides definitions for a plethora of industry terms.
"More than a Fuel" shows that from the food we eat, to the clothes on our backs, to cosmetics and skin care products, soaps and detergents, life-saving medical equipment and pharmaceuticals, building materials, toys and packaging materials, thousands of the products we use and depend on every day are made from hydrocarbons.
Drilling Matters' new Interactive Rig Tour uses narrated video clips to explain the basics of key rig systems.
Finally, Drilling Matters' new glossary  describes equipment and will help educate industry newcomers about the meaning of numerous industry terms. Graphics, narrations and videos are planned for the glossary.
Drilling Matters is a web-based, modular and interactive website designed to dispel myths and correct misconceptions about the petroleum industry. DrillingMatters.org now comprises modules discussing drilling equipment, drilling people and companies, the value of hydrocarbons, energy poverty, and more.
For more information, contact mike.killalea@iadc.org
Drilling Matters: Spread the Word.
IADC Lexicon Featured Term for November 2017
The IADC Lexicon (IADCLexicon.org) is a compendium of upstream-related terms, which, unlike conventional glossaries, are official definitions drawn from legislation, regulation and regulatory guidance, standards (global, national and regional), and IADC guidelines. Terms often have multiple definitions from different sources.
Check out the new Random Term Generator.
This month's Featured Term is:
"This month's Featured Term is "Hybrid Tether System" (Source: API RP 17L2, Recommended Practice for Flexible Pipe Ancillary Equipment, First Edition, March 201)This month's Featured Term is "Hybrid Tether System" (Source: API RP 17L2, Recommended Practice for Flexible Pipe Ancillary Equipment, First Edition, March 201)
A combination of a chain and synthetic tether.
(click the link to read the full definition on the IADC Lexicon.)
Accreditation Updates
WellSharp
Quintana Wellpro, Neuquen Argentina

Crane-Rigger
Diamond Offshore, Houston, Texas (Conditional)

RigPass
CAMARA MEXICANA DE LA INDUSTRIA DE LA CONSTRUCCION, MEXICO (FULL)

DYNAMIC ENERGY SERVICES, USA (CONDITIONAL);
GRUPO VARCUS S.A. DE C.V., MEXICO (CONDITIONAL);
SLP ALASKA, LLC., USA (CONDITIONAL)
DIT
Energy Technology Institute Limited, Entebbe Uganda

Safety Alerts
For the latest safety alerts, visit www.iadc.org/safety-alerts
Alert 17-6: Offshore crane operator falls through dislodged grating

Upcoming Events
Rigs Receive ISP Certificates
For certificates received since last LTI (in years):

Pacific Drilling: Pacific Santa Ana (2);
PV Drilling II: (1);
Vantage Drilling: Titanium Explorer (3); Titanium Explorer (2); Titanium Explorer (1);
Viking Int'l: Rig I-9 (3)
For certificates received since last recordable incident (in years):
Pacific Drilling: Pacific Santa Ana (2);
Sidewinder Drilling LLC: Sidewinder 107 (2);
Viking Int'l: Rig I-30 (1); Rig I-27 (3)
New IADC Members
IADC welcomes 14 new members:

ALROWAD TECHNICAL SERVICES PETROLEUM, RED SEA, EGYPT;

CHANDLER ENGINEERIN, BROKEN ARROW, OK, USA;
EZDAN PROJECTS HOLDING COMPANY, AL HASSA, EASTERN PROVINCE, SAUDI ARABIA;
FUTURE HORIZONS TRAINING & LANGUAGE INSTITUTE, QATIF, EASTERN PROVINCE, SAUDI ARABIA;
GULF CPR TRAINING INSTITUTE, JABRIYA, KUWAIT;
HB RENTALS, LC CORPORATE HEADQUARTERS, BROUSSARD, LA, USA;
IBRAHIM AL SHAB TRADING EST, AL KHOBAR, EASTERN PROVINCE, SAUDI ARABIA;
MAKAMIN PETROLEUM SERVICES CO. (LLC), DAMMAM, SAUDI ARABIA;
MODURESOURCES AP PE LTDB, SINGAPORE;
PETROGEAR FZE, RAS AL KHAIMAH, RAK, UNITED ARAB EMIRATES;
RAG ENERGY DRILLING GMBH, GAMPERN, AUSTRIA;
SAUDI ARABIAN DRILLING ACADEMY (SADA), ABQAIQ, EASTERN PROVINCE, SAUDI ARABIA;
SODIP SARL, AKWA, LITTORAL, CAMEROON;
TENCATE PROTECTIVE FABRICS, UNION CITY, GA, USA.
DRILLBITS Volume 27, Number 11

Andy Hendricks, Chairman • Jason McFarland, President • Amy Rose, Editor
All listed phone extensions are for IADC's Houston headquarters,
+1/713-292-1945. Fax +1/713-292-1946.
Send comments/questions to Amy Rose at amy.rose@iadc.org.
To subscribe to Drill Bits, go to www.iadc.org/drillbits.
To change/cancel a Drill Bits subscription, send an e-mail message to
IADC Director – Membership Sharon Thorpe at sharon.thorpe@iadc.org.