DRILLBITS – October 2017
In This Edition
Recurring Items
Sign Up For the DRILLBITS Email Newsletter!
Advocacy

IADC Encouraged by Senate Vote on Arctic National Wildlife Refuge
On 19 October, the U.S. Senate voted to defeat an amendment that would have restricted the ability to open the Arctic National Wildlife Refuge (ANWR) to raise revenue for the Budget. The amendment was defeated with a vote of 48-52. In response to the vote, IADC President Jason McFarland said:
"IADC members are encouraged by the vote in the U.S. Senate as it could signal a willingness in the immediate future to open ANWR for exploration and production. While there is not absolute certainty about the amount of oil and gas contained in ANWR, most experts have estimated that the 19.6 million acre refuge contains 10 billion barrels of oil or more. Decades of drilling in Alaska have enabled industry to devise the most effective methods to retrieve the abundant resources in the region safely and without environmental damage. Opening ANWR to oil and gas development and production represents an extraordinary opportunity for our members to develop our nation's natural resources, provide jobs and increase revenue. IADC thanks the Senators who voted to defeat this amendment."
IADC Supports ONSHORE Act's Goal to Efficiently Approve Permits to Develop and Produce Oil and Gas on Federal Lands
On 13 October the House Subcommittee on Energy and Mineral Resources hosted a hearing to discuss the draft of the ONSHORE Act, which would enable States with established permitting and regulatory programs to seek primacy for the implementation of federal permitting and regulatory responsibilities for oil and gas development on Federal lands within their borders. In response, IADC President Jason McFarland issued the following statement:
"Handing permit oversight over to the states helps to avoid costly duplicative regulation, allowing quicker access to the natural resources that power the U.S. and mean so much to every person in the nation. Currently, the BLM processes these applications in 250+ days. Conversely, states are able to issue permits within 30-45 days. These delays are costly and detrimental to an industry that contributes a significant amount of revenue and jobs to the U.S. economy. IADC is supportive of the ultimate goal of this legislation to ensure efficient and timely approval of permits to ensure continued U.S. energy independence."
IADC Invited to Meet with BSEE Director Angelle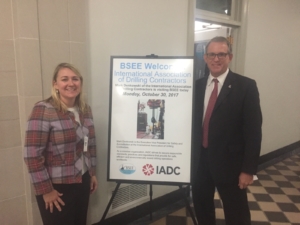 On 30 October, IADC was invited to meet with Bureau of Safety and Environmental Enforcement (BSEE) Director Scott Angelle to talk about the industry's safety record, training and competence programs and IADC's role in the industry. Mark Denkowski, IADC Executive Vice President, Operational Integrity and Liz Craddock, IADC Vice President, Policy and Government Affairs, attended the meeting. They also met staff members on the House and Senate Labor committees who are responsible for handling workplace safety and training.
US Department of Interior Announces Largest Oil and Gas Lease Sale in U.S. History
On 24 October, Department of Interior Secretary Ryan Zinke proposed a region-wide lease oil and gas lease sale on 76,967,935 acres in federal waters in the Gulf of Mexico, offshore Texas, Louisiana, Mississippi, Alabama and Florida. The sale is scheduled for March 2018 and includes all available unleased areas on the Gulf's Outer Continental Shelf.
The estimated amount of resources projected to be developed as a result of the proposed region-wide lease sale ranges from 0.21 to 1.12 billion barrels of oil and from 0.55 to 4.42 trillion cubic feet of gas. Most of the activity from the proposed lease sale is expected to occur in the Central Planning Area.
All terms and condition for Gulf of Mexico Region-wide Sale 250 are detailed in the Proposed Notice of Sales (PNOS) information package available on the Bureau of Ocean Energy Management's website.
Temporary Deputy Assistant Secretary for Lands and Mineral Management at US Department of Interior Named
Aurelia Skipwith, Deputy Assistant Secretary for Fish and Wildlife and Parks, was recently granted a temporary Delegation of Authority to perform the assigned functions and duties of the Deputy Assistant Secretary – Lands and Minerals Management. The Secretarial Order highlighting this responsibility was issued on 17 October. It is expected that someone will soon be named to permanently occupy the post.
The Secretarial Order can be accessed via the Department of Interior website.
Washington D.C. Updates
House:
The U.S. House also passed the Budget Resolution for FY18, and passed the National Defense Authorization Act.  The U.S. House is gearing up for tax reform legislation and is expected to release the tax bill on November 1st.
Senate:
The big action in the U.S. Senate this month was passing a Budget Resolution that will guide Congressional spending for the upcoming fiscal year. Contained in the Budget Resolution are budget reconciliation instructions for tax reform.  These 'instructions' provide an avenue for the Senate to pass tax reform with only 51 votes vs. 60.  Also, a win for the drilling industry was the defeat of an anti-ANWR amendment.  It is expected that ANWR will be opened as a way to raise money/pay for the tax reform legislation.  The Senate also continued to process nominations with confirming seven agency positions and two judicial appointments.
White House:
No real movement on NAFTA negotiations yet, although Canada and Mexico both said they would continue with NAFTA between themselves if the U.S. pulled out of the treaty.  The President issued three new Executive Orders in October:  1) "Resuming U.S. Refugee Admissions Program with Enhanced Vetting Capabilities, 2) "Amending Executive Order 13223 (relates to national emergencies) and 3) "Promoting Healthcare Choice and Competition Across the U.S."
INDUSTRY NEWS
BTS Publishes First BOP Equipment Report
The Bureau of Transportation Statistics, which has been designated as the data repository for BSEE, has published its first report on "Blowout Prevention System Events and Equipment Component Failures."
The 2016 report, which includes data required to be reported by the Well Control Rule, covers the period when the rule went into effect on 28th July to 31st December, 2016.  Members of the RAPID-S53 IOGP/IADC BOP Reliability JIP met with BTS a number of times in 2017 in Houston and Washington DC to review and advise them on the publication of their 2016 report.
The report acknowledged the role of the JIP in working with BTS to standardize the data collection format and subsequent efforts to improve data quality.  It also notes that the JIP is continuing to work with BTS to provide component population data to establish perspective of the component failures reported.
The RAPID-S53 JIP plans to continue work with BTS to ensure the two data collection efforts are aligned and to assist them with the 2017 report.
The 2016 report is available at the newly redesigned SafeOCS website at https://www.safeocs.gov/data_insights.htm.
For more information, contact Steve Kropla at ext. 211 or steve.kropla@iadc.org.
Energy Safety Canada Launched
On 18 October, Energy Safety Canada was unveiled. Formed through a merger of Enform Canada and Oil Sands Safety Association, Energy Safety Canada is the national safety association for the oil and gas industry in Canada, bringing together the best of both associations to accelerate improvements in safe work performance.
More information about the new not-for-profit association can be found on their website at http://www.energysafetycanada.com/#
U.S. Energy Information Administration Reports Decrease in Energy-Related CO2 Emissions
A new report from the U.S. Energy Information Administration (EIA) notes that U.S. energy-related carbon dioxide (CO2) emissions have decreased by 89 million metric tons, from 5,259 in 2015 to 5,170 in 2016. Although gross domestic product increased 1.5% over that period, other factors contributing to energy-related CO2 emissions more than offset the growth in GDP, leading to a 1.7% decline in energy-related CO2.
The full report can be accessed via the EIA website.
OSHA Issues Notice on Respirable Crystalline Silica
The U.S. Occupational Safety and Health Administration (OSHA) recently issued its Small Entity Compliance Guide for the Respirable Crystalline Silica Standard for General Industry and Maritime. The document is intended to help small businesses understand and comply with OSHA's Respirable Crystalline Silica standard for General Industry and Maritime. The guide describes the steps that employers are required to take to protect employees in general industry and maritime from the hazards associated with exposure to respirable crystalline silica.
Although the standard isn't necessarily expected to directly impact the drilling sector, it is important to note that under subpart Z of the standard, under the heading of toxic and hazardous substances, mica and graphite are included, both of which are occasionally used in drilling fluids, and stored on location.
To access the guide, please visit OSHA's website. OSHA has also published a Fact Sheet, which can also be found on their website.
Patterson-UTI Energy Hosts Rig Tour for Petroleum Engineering Students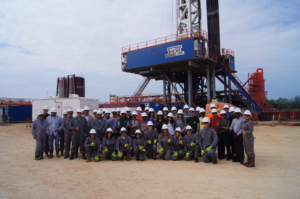 More than 40 petroleum engineering students from the University of Missouri-Rolla were treated to a rig visit in South Texas, hosted by Patterson-UTI Energy. The students, whose school now boasts an IADC Student Chapter, were in San Antonio for the 2017 SPE Annual Technical Conference and Exhibition. They visited Patterson Rig 247, which was working for Gulftex.
UK OSDR Posts Operations Notices
The United Kingdom's Offshore Safety Directive Regulator recently posted updated operations notices, which include:
Operations Notice 82 (Revised), Guidance on the Provision of Accommodation on Offshore Installations. This notice provides guidance on the provision of accommodation on offshore installations to comply with the requirements of Regulation 12 and Schedule 1 of the Offshore Installations and Wells (Design and Construction, etc.) Regulations 1996 (DCR). The full notice is available at http://www.hse.gov.uk/osdr/assets/docs/operations-notice-82-accommodation.pdf
IADC Houston Chapter Awards Scholarships

Seven Texas A&M petroleum engineering seniors, all members of the TAMU IADC Student Chapter attended the October meeting of the IADC Houston Chapter. These students earned scholarships from the IADC Houston Chapter.
From left, Hector Menchaca, Scott Parnell, Jacob Braselton, Cameron Osterhaus, Jessica Wang, Shane Parish, Aalok Tripathi, and IADC Houston Chapter Chairman Chris Menefee, Independence Contract Drilling.
For more information on the TAMU IADC Student Chapter, go to https://stuactonline.tamu.edu/app/organization/profile/public/id/1881.
Oil and Gas UK Publishes Workforce Report 2017
Oil and Gas UK recently published its Workforce Report 2017, which provides demographics data to complement the employment figures published in its Economic Report 2017. This document gives additional information on jobs supported by the UK upstream industry and the demographic breakdown of the offshore workforce.
The full report can be accessed via Oil and Gas UK's website.
Register now for Houston Chapter Christmas Gala, 1 December
Create a new Christmas tradition for you and yours, and attend the Houston Chapter's first Christmas Gala on Friday, 1 December, at the Petroleum Club of Houston.
The Gala will feature a raffle benefitting Home Run Hitters International, supporting Dr. Deborah Carr's Houston-based work with severely disabled children and their families. Due to reduced state funds and HISD finance restrictions for children with special needs, HRHI has lost school partners and support. Now more than ever, the organization and the children they serve need help. Due to the Chapter's past generous contributions, the Houston Chapter has donated over $250,000.
To register or secure a sponsorship, please visit: https://s01.123signup.com/servlet/SignUpMember?PG=1537846182300&P=15378461911432324700

Norway Issues Report Regarding Safety on the Norwegian Shelf
Norway's Ministry of Labour and Social Affairs organized a group of representatives from employers, unions and government in November 2016 to assess and discuss the health, safety and working environment conditions and trends in the Norwegian petroleum industry. The resulting report, which was recently made available, provides recommendations for further follow-up and will serve as input for a new report on health, safety and the environment in petroleum activities.
Petroleum Safety Authority (PSA) Norway issued a response to the report, highlighting the following conclusions:
The level of health, safety and the working environment in the Norwegian petroleum sector is high. At the same time, safety challenges and serious conditions have arisen in the past few years.
Generally speaking, the regime for regulating health, safety and the working environment in the Norwegian petroleum sector functions well and should be continued. However, making good use of the degree of latitude in the regime depends on the three parties having mutual trust in and respect for their respective roles and responsibilities. This requires the companies to follow up their responsibility to look after and continue developing the level of safety. The Petroleum Safety Authority Norway must be a strong and clear regulator. Bipartite and tripartite collaboration is an important cornerstone of the regime, and must be strengthened and further developed.
The orientation of the regulations, based on requirements that are generally performance-based in combination with the use of standards, is desirable given that the industry is developing rapidly and that the companies need to adopt the most appropriate technology at any given time. The main orientation of the regulations is robust and should be maintained.
Continuous improvement of health, safety and the working environment is a prerequisite and a common goal for the petroleum sector. To ensure efficient operation and continuous improvement, the industry and the government must continuously strive for, learn from and adopt new knowledge and technology.
The RNNP survey represents the most important foundation for a common understanding of reality and for communication concerning trends in risk level in the petroleum activity. The parties in the industry must continue to support work on and continued development of this survey.
The full report (In Norwegian with an English summary) can be accessed here. PSA Norway's response can be accessed via their website.
Dropped Objects Workgroup Releases Recommended Practice
The Dropped Objects Workgroup members recently released their recommended practice, Dropped Object Prevention Scheme Recommended Practice 2017. These documents represent 'Best Practice' as agreed upon by a consensus of the members of the DROPS workgroup. Certain processes and procedures detailed in the documents may require modification to suit specific locations, activities or facilities. However, the underlying guidelines are considered best practice and are a recommended component of any integrated dropped object prevention scheme. The guidelines are subject to review and update in response to improved methodologies and technologies.
The Recommended Practices guidance is available for free download from the DROPS website and may be copied in part or full as required and employed in the prevention of dropped objects worldwide.
IADC Student Chapter Members Receive HUET Training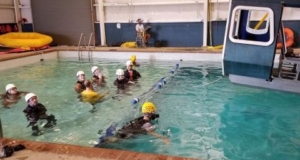 On 5 October, six petroleum engineering students and members of the University of Louisiana-Lafayette student chapter achieved their HUET certifications at the University's Marine Survival Training Center.
U.S. National Academies Issues Report, Designing Safety Regulations for High Hazard Industries
The U.S. National Academies of Sciences, Engineering and Medicine recently issued a new report that looks at designing safety regulations for high-hazard industries, such as pipeline transportation, chemical manufacturing and offshore oil and gas development.
IADC's Jens Hoffmark was a contributor to the report, along with Ida Maria Winther of Maersk Drilling. As the report was commissioned by the U.S. Departmet of Transportation's Pipeline and Hazardous Materials Safety Administration, it is not yet clear that it will be considered by other agencies.
The full report can be accessed via the National Academies website.
Houston Chapter Golf Sponsors Donate to Hurricane Relief
Although Hurricane Harvey forced the IADC Houston Chapter to cancel their annual golf tournament, its sponsors came through to help the less fortunate. The vast majority of tourney sponsors stepped up, and contributed 50/50 to hurricane relief through the JJ Watt Fund and to the Chapter Scholarship Fund. The cancelled tournament was scheduled for 15 September, but the storm flooded the golf course.
These generous sponsors are:
Platinum Sponsors
Bob Herbert & Associates
Allrig, Inc.
Gold Sponsors
Transocean
Gardner Denver
Derrick Equipment
Helmerich & Payne
Diamond Offshore
Silver Sponsors
Mustang CAT
Patterson-UTI
Independence Contract Drilling, Inc.
Beverage Cart Sponsor
Empire Tool
In addition, a total of twenty-four (24) other companies who purchased teams chose to contribute to the fund as well.
UL-Lafayette Student Chapter Members Tour Knight Oil Tools Facility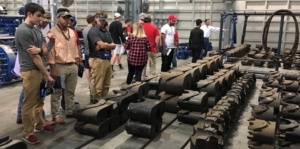 On 29 September, 33 students with the IADC Student Chapter at the University of Louisiana-Lafayette (ULL) were treated to a facility tour of Knight Oil Tools in Lafayette, Louisiana. The company shut down their facility to enable the students who attended an opportunity to see and touch the equipment, which also included a demonstration of an accumulator unit.
API RP54 Meeting to be Held in Oklahoma City in November
API will host the November RP54 meeting on Thursday, 30 November at the Francis Tuttle Technology Center in Oklahoma City, Oklahoma from 9 a.m. to 3 p.m.
For more information, please visit API's committee website or contact Rhett Winter at Rhett.Winter@iadc.org.
ACCREDITATION
IADC Competence Assurance Program to be Updated
Competence Assurance is a crucial part of the employee development process.  Having competent employees helps to assure the safety of employees, assets, and the environment.  These are some of the reasons the industry worked collaboratively to develop IADC's Competence Assurance Accreditation and Guidelines for Building a Competence Program.  IADC and industry understand and embrace the need for continual improvement in an ever-changing industry and are working on making the Competence Accreditation better.
The Accreditation Division is currently working with industry and IADC Competence SME auditors to grow the program and include new industry best practices.  Working together to share strengths from the various programs will help raise the bar on competence across the industry.  The new accreditation handbook with enhanced requirements is anticipated to be released in Q1 2018.
For more information about the Competence Assurance program, please visit the IADC Accreditation website. For questions, please contact Brooke Polk at Brooke.Polk@iadc.org.
IADC WellSharp Now Available in Arabic
The online exam for IADC's well control training and assessment program, WellSharp, is now available in Arabic. The Arabic translation is now available to all training providers. The exam was previously translated into Portuguese and Spanish, and it will also be available in Mandarin later this year.
WellSharp, introduced in 2015, is a rigorous well control training and assessment program that offers content on prevention, situational awareness, barriers, barrier management, and risk awareness and management. It encourages blended learning to enhance the quality and value of the training, with required independently proctored electronic knowledge assessments and enhanced simulator exercises.
For more information about WellSharp, please visit the IADC Website.
IADC COMMITTEES
IADC Cybersecurity Subcommittee Drafting Guidelines
The IADC ART Cybersecurity Subcommittee is in full swing drafting five additional guidelines following the guidelines published last year on Assessing and Managing Cybersecurity Risk for Drilling Assets. The five additional guidelines under development are as follows and due to be completed by the end of 2017.
Guidelines for Minimum Cybersecurity Requirements for Drilling Assets
Guidelines for Network Segmentation
Cybersecurity training v1.0
Guidelines for hardening of control systems focusing on existing drilling assets (to include patching)
Guidelines for security monitoring and audit
Please join the Subcommittee at the next meeting to participate in or learn more about the progress of the guidelines. The focus of the next subcommittee meeting is to review the guidelines for Minimum Cybersecurity Requirements for Drilling Assets. The next IADC ART Cybersecurity Subcommittee meeting will be at 9 am on 14 September 2017 at IADC headquarters in Houston. If you plan to attend, please register online at the IADC website.
IADC DEC Tech Forum looks at "Extreme Drilling"
The theme is extreme at the 15 November IADC Drilling Engineers Committee, graciously hosted by Baker Hughes, a GE Company. Click here (http://dev2.iadc.org/event/iadc-dec-committee-tech-forum-4/) to register. The Q4 "Extreme Drilling" DEC Technology Forum includes presentations on ultra-ERD, high-temperature geothermal drilling, qualification of a 20,000-psi BOP, projectile-impact drilling, catastrophic blowout, and more. Lunch is included. Location is 3300 N Sam Houston Parkway E, Houston, TX 77032.
There is no charge to register, but spaces are limited, so register soon.
Check out the high-powered agenda:
08.30  Welcome & Introductions: Keith Lynch, ConocoPhillips, & Chairman, IADC Drilling Engineering Committee
08.35  DEC Leadership Succession
08.40  JIP Updates
DEC-1: "Drilling Systems Automation Roadmap" – Robin Macmillan, National Oilwell Varco
DEC-2: "Decision Support for Dynamic Barrier Support" – Ama Ahluwalia, DNV-GLSpecial Update: "Early Kick Detection Project Using Existing LWD Raw Data" – Roy Long, National Energy Technologies Laboratory (for Kelly Rose, NETL)
09.00  JIP Proposal DEC-3: "Rho Ve Method – New Empirical Pore Pressure Transform" – Matt Czerniak, Director, GCS Solutions, Inc.
09.30 "Drilling & Completion Issues for 500°C Hot Rock Geothermal CO2 Project" – Joseph Scherer, President and CEO, GreenFire Energy

Abstract: Mr. Scherer will explain his company's plans to harvest heat from the very hot brittle-ductile transition zone to create competitively priced utility scale power.  GreenFire believes that the principal reason for the anomaly of the earth's enormous geothermal energy (the greatest source of renewable, clean power in the world) remaining untapped is that solutions to the challenges of drilling into very hot rock, drilling accurately and then completing wells are not yet technically or commercially available.   Mr. Scherer will describe the challenges the drilling industry must address to unlock the best source of utility scale power with large drilling campaigns deep into hot dry rock.  He will also describe the attractive economics of these very large projects for all concerned.
10.00  "Extreme Engineering Controls: A Catastrophic Blowout" – Rolly Gomez, Engineering Manager, Boots & Coots
Abstract: An Operator in Indonesia had been drilling a conventional well to a vertical depth of 2160ft.  Without prior warning the well kicked and began an uncontrolled flow to surface.  The Operator managed to divert the flow, but not before hydrocarbons in the form of oil, gas and condensate escaped around the casing in a catastrophic blowout. The hydrocarbons ignited spontaneously, engulfing the rig and surrounding equipment in flames.  As the well blew out it was accompanied by ejected formation debris, which led to a collapse of the surrounding area. As the well cratered it swallowed the entire rig, adjacent machinery and equipment and led to surface broaching in several nearby locations. The presentation will focus on the surface intervention operations of this remote location, the engineering and implementation of a technically challenging shallow relief well and the successful interception and subsequent control of this highly volatile blowout.
10.30  BREAK
10.45  "Highlights from Drilling the Latest World Record ERD Wells" – Chase Holub, Drilling Engineer (Sakhalin Team), ExxonMobil
Abstract: Exxon Neftegas Limited, the operator of the Sakhalin-1 Project, along with its partners, has been employing extended reach drilling practices consistently through its drilling campaign to develop resources in Far East Russia on Sakhalin Island. Originally implemented to allow access to offshore reservoirs from onshore drilling locations, technology advancements, design methodology evolution, and continuously improving drilling practices have allowed the operator to push the once perceived limits of extended reach drilling to access and develop resources from existing drilling and production infrastructure that would once have required new facilities or have been left unrecovered.
11.15  "Qualification of a 20,000-psi BOP for the Gulf of Mexico" – Jim Raney, Director of Engineering, Anadarko
Abstract: After discovering a field in the Deepwater GOM with a mudline MASP exceeding 15,000 psi, Anadarko Petroleum Corporation assembled a "20A" team consisting of experts in the design development, manufacture, and inspection of Drilling, Completions, Intervention, Subsea and Subsurface Equipment in a 20,000 psi environment.  This presentation will explore the the evolution of the concepts that were encountered in the Drilling specific areas of the 20,000 psi BOP and MODU.   It will also touch on the process involved in the design verification and testing validation for this equipment to meet the regulatory requirements.
11.45  "Shell-sponsored HyperDrill™ Repetitive Hypervelocity Projectile Impact Drilling Offers 3-10X Improvement" – Mark Russell, CEO, HyperSciences
Abstract: Funded by Shell GameChangers and private equity, HyperSciences (General Hyper) is a hypersonic platform technology development company that significantly reduces the cost of conventional oil and Gas and Geothermal Drilling, mining, tunneling and construction excavation. The company's patented and proprietary technology utilizes hypervelocity propulsion with low-cost erodible hypersonic projectiles to dramatically accelerate rock breaking in traditional underground applications. HyperSciences core product is Hyperdrill™, a patented steerable repetitive impact downhole tool that is a substantial enhancement to, yet compatible with existing drilling systems. This plug and play approach reduces the time, cost and adoption friction for existing operators and service providers using  well established practices.  Mature and proven with Shell sponsorship, HyperDrill™ offers 3-10X ROP (Rate of Penetration) drilling improvements over best in-class conventional rotary drilling in oil and gas (O&G) and is the key to enabling on-demand Geothermal "Anywhere" wells. Independent studies conclude that HyperDrill saves over 50% rig days and generate net savings of over $1.5M per well in traditional environments and $4-$7M per well in hard rock offshore environments, translating to over $2B annual commercial value.
12.15 Adjournment. Lunch sponsored by Baker Hughes, a GE Company
 INDUSTRY RESOURCES
IADC Well Control Conference of the Americas Rescheduled
The IADC Well Control Conference of the Americas has been rescheduled for 6-7 December at the original location, Moody Gardens, in Galveston, Texas. The event, which was initially supposed to be held in August, was cancelled due to Hurricane Harvey.
To register or view more information about the rescheduled conference, please visit the IADC Events website.
ISO Issues New Standards
The International Organization for Standardization (ISO) recently issued new Standards. They include:
ISO 35101:2017, Petroleum and natural gas industries – Arctic operations – Working environment. The standard describes the working environment that can be expected when operating oil and gas facilities in the Arctic environments and climates. It also provides principles and generic guidelines for the design and operation of fixed and floating oil and gas facilities both onshore and offshore. To access the new standard, please visit https://www.iso.org/standard/63469.html
ISO 19905-3:2017, Petroleum and natural gas industries – Site-specific assessment of mobile offshore units – Part 3: Floating unit. This standard specifics requirements and gives guidance for the site-specific assessment of mobile floating units for use in the petroleum and natural gas industries. It addresses the installed phase, at a specific site, of manned non-evacuated, manned evacuated and unmanned mobile floating units. To access the new standard, please visit https://www.iso.org/standard/61143.html
Updated IADC International Offshore Regulatory Summary Report Now Available
IADC recently updated the International Regulatory and Standardization Activities Affecting the Offshore Oil and Gas Industry report. The report provides a reference on international regulatory and standards development activities of various organizations that have the potential to affect offshore oil and gas operations.
The report can be accessed on the IADC Advocacy webpage. Questions regarding the report can be directed to Jim Rocco at Jim.Rocco@iadc.org.
Everyday Hydrocarbon Products Showcased in Drilling Matters
New modules on IADC's DrillingMatters.org provides details the myriad products both trivial and critical that are based on hydrocarbons, and showcasing the industry's solid environmental record. In addition, DrillingMatters.org now features an improved interactive drilling rig, allowing users to point and click and learn more about key drilling components. Also, a new glossary provides definitions for a plethora of industry terms.
"More than a Fuel" shows that from the food we eat, to the clothes on our backs, to cosmetics and skin care products, soaps and detergents, life-saving medical equipment and pharmaceuticals, building materials, toys and packaging materials, thousands of the products we use and depend on every day are made from hydrocarbons.
Drilling Matters' new Interactive Rig Tour uses narrated video clips to explain the basics of key rig systems.
Finally, Drilling Matters' new glossary  describes equipment and will help educate industry newcomers about the meaning of numerous industry terms. Graphics, narrations and videos are planned for the glossary.
Drilling Matters is a web-based, modular and interactive website designed to dispel myths and correct misconceptions about the petroleum industry. DrillingMatters.org now comprises modules discussing drilling equipment, drilling people and companies, the value of hydrocarbons, energy poverty, and more.
For more information, contact mike.killalea@iadc.org
Drilling Matters: Spread the Word.
IADC Lexicon Featured Term for October 2017
The IADC Lexicon (IADCLexicon.org) is a compendium of upstream-related terms, which, unlike conventional glossaries, are official definitions drawn from legislation, regulation and regulatory guidance, standards (global, national and regional), and IADC guidelines. Terms often have multiple definitions from different sources.
Check out the new Random Term Generator.
This month's Featured Term is:
"Boundary" (Sources: API Std 2000, Venting Atmospheric and Low-pressure Storage Tanks, Sixth Edition, November 2009, and ANSI/ISA-99.00.01-2017, Security for Industrial Automation and Control Systems, Part 1: Terminology, Concepts and Models, 29 October 2007)
Interface between an item and its surroundings.
(click the link to read the full definition on the IADC Lexicon.)
Accreditation Updates
WellSharp
Quintana Wellpro, Neuquen Argentina

Safety Alerts
For the latest safety alerts, visit www.iadc.org/safety-alerts
Alert 17-6: Offshore crane operator falls through dislodged grating

Upcoming Events
Rigs Receive ISP Certificates
For certificates received since last LTI (in years):

COSL Middle East FZE: COSL Force (3); COSL Strike (8); COSL Superior (7);
Weatherford Drilling Int'l: Rig 151 (2); Rig 157 (4); Rig 158 (1); Rig 798 (3); Rig 799 (2); Rig 844 (7); Rig 870 (5); Kuwait Transport Team (16)
For certificates received since last recordable incident (in years):
Atlantica: Beta (2);
Sidewinder Drilling LLC: Sidewinder 101 (3); Sidewinder 219 (2);
Weatherford Drilling Int'l: Rig 155 (5); Rig 157 (1); Rig 180 (1); Rig 867 (1).
New IADC Members
IADC welcomes 14 new members:

3 STARS VISAS UK LTD, LONDON, UNITED KINGDOM;
ACTION DRILLING & OIL WELL MAINTENANCE CO WLL, SAFAT, KUWAIT;
APEX ENERGY COMPANY FOR GENERAL TRADING AND CONTRACTING W.L.L., EAST AHMADI, AHMADI, KUWAIT;
CITADEL DRILLING LTD, CALGARY, ALBERTA, CANADA;
DIAMOND STAR FOR TRADING AND CONSTRUCTION, CO, WLL, MANAMA, BAHRAIN;
FULKRUM TECHNICAL RESOURCES LLC, ZAYED CITY, ABU DHABI, UNITED ARAB EMIRATES;
HELIX OILFIELD SERVICES LIMITED, ABERDEEN, SCOTLAND, UNITED KINGDOM;
NILE OIL & GAS SERVICES LIMITED, OBOUR CITY, AL QALYUBIYAH, EGYPT;
NOIAA PLC, LIMBE, SOUTH WEST, CAMEROON;
OILTECH GROUP LIMITED, BRIGHOUSE, UNITED KINGDOM;
OPEANS NIGERIA LIMITED, PORT HARCOURT, RIVERS STATE, NIGERIA;
RAAS OILFIELD SERVICES AND SUPPLIES WLL, MANAMA, BAHRAIN;
SOUTHERN ALBERTA INSTITUTE OF TECHNOLOGY, CALGARY, ALBERTA, CANADA;
TUTIS INTERNATIONAL, FAHAHEEL, KUWAIT
DRILLBITS Volume 27, Number 10

Andy Hendricks, Chairman • Jason McFarland, President • Amy Rose, Editor
All listed phone extensions are for IADC's Houston headquarters,
+1/713-292-1945. Fax +1/713-292-1946.
Send comments/questions to Amy Rose at amy.rose@iadc.org.
To subscribe to Drill Bits, go to www.iadc.org/drillbits.
To change/cancel a Drill Bits subscription, send an e-mail message to
IADC Director – Membership Sharon Thorpe at sharon.thorpe@iadc.org.