DRILLBITS – November 2018
In This Edition
Recurring Items
Sign Up For the DRILLBITS Email Newsletter!
Advocacy

IADC Supports Interior Approval of Plan to Drill in Arctic Waters
In response to the Department of Interior's approval on 24 October to a plan to drill for oil and gas in federal Arctic waters north of Alaska, IADC President Jason McFarland said:
"Interior's approval yesterday of the Alaska Liberty project is a step forward in tapping the rich potential of the Arctic's natural resources. Arctic reserves are estimated at more than 90 billion barrels of oil, and with decades of experience operating in Alaska's harsh climate, drilling contractors have developed safe and effective environmentally sensitive methods to retrieve the region's vast oil and gas reserves. IADC continues to support policies that encourage development of the nation's valuable and abundant natural resources, and is pleased with Interior's commitment to enabling drilling and production activities in Arctic federal waters.
DRILLERSPAC – Political Action Committee (PAC) of IADC
The DRILLERSPAC is now up and running. And the 2018 Mid-Term elections are heating up! The DRILLERSPAC was sanctioned by IADC's Board of Directors to further IADC's goal of advocacy engagement with federally elected Members of Congress. The DRILLERSPAC's mission is to support candidates that support the drilling industry.
The DRILLERSPAC supported 14 candidates in the 2018 mid-term elections, including 5 Senate candidates and 9 House candidates, with a total of $22,000 in contributions.
DRILLERSPAC is not affiliated with any political party. It is organized and conducted on a voluntary, non-partisan basis. DRILLERSPAC is overseen by the PAC Board of Trustees, which is comprised of 10 members – three from offshore companies, three from onshore companies, two from drilling services companies and two IADC employees. For more information, please contact Elizabeth Craddock at Elizabeth.craddock@iadc.org.
Washington D.C. Updates
With both the House and Senate out for the mid-term election until Nov. 13th, the Washington, D.C. update will resume next month.
INDUSTRY NEWS
Oregon Joins Other U.S. States in Offshore Drilling Ban
On 26 October, Oregon Governor Kate Brown issued an executive order blocking drilling offshore Oregon's coast. Oregon joins several other states who have similarly tried to shield themselves from the Trump administration's plan to offer opportunities to drill off the entirety of the U.S. coast. Though Oregon only has jurisdiction out to 3 miles from the coast, the Governor's executive order prevents the development of any infrastructure that would support drilling, with the intention of creating logistical challenges that deter development prospects in federal waters.
OSHA to Initiate Site-Specific Targeting 2016 Program
OSHA is initiating their Site-Specific Targeting 2016 Program (SST-16) using injury and illness information electronically submitted by employers for calendar year 2016. The program will target high injury rate establishments in both the manufacturing and non-manufacturing sectors for inspection. The SST is OSHA's main site-specific targeting inspection plan for non-construction workplaces that have 20 more employees and is based on the data received from injury and illness information that employers submitted for Calendar Year 2016 under 29 CFR 1904.41. The program is intended to help OSHA achieve its goal of ensuring that employers provide a safe and healthful workplace by directing enforcement resources to those workplaces with the highest rates of injuries and illnesses.
New Report Highlights U.S. Natural Gas Industry's Leadership in Protecting America's Critical Infrastructure from Cyberattacks
API, along with the Oil and Natural Gas Subsector Coordinating Council (ONG SCC) – the official body representing the operators of natural gas and oil infrastructure to federal agencies involved in industry-related security, recently released a report, "Defense-in-Depth: Cybersecurity in the Natural Gas and Oil Industry." The report describes the industry's resilience and preparedness to defend itself and energy consumers against malicious cyber threats and provides insight for policymakers into the comprehensive cybersecurity programs of the natural gas and oil industry.
Key points in the report include:
Companies acknowledge that cyberattacks can present "enterprise risks" – risks that could compromise the viability of a company – and have developed comprehensive approaches to cybersecurity.
Companies orient their information technology (IT) and industrial control systems (ICS) cybersecurity programs to leading frameworks and best-in-class standards, especially the National Institute of Standards and Technology (NIST) Cybersecurity Framework and the ISA/IEC 62443 Series of Standards on Industrial Automation and Control Systems (IACS) Security.
Cyber threats are not new or unique to pipelines; they are present across the energy system, including at coal and nuclear plants. Pipeline companies have layers of security in place to protect against cascading failure, which also include mechanical controls that are not capable of being overridden through any cyber compromise of ICS.
The natural gas system is highly resilient because the production, gathering, processing, transmission, distribution and storage of natural gas is geographically diverse, highly flexible and elastic, characterized by multiple fail-safes, redundancies and backups.
Reliance upon voluntary mechanisms including proven frameworks and public-private collaboration, rather than prescriptive standards or regulations, is the best way to bolster the cybersecurity of natural gas and oil companies and the energy infrastructure they operate, and to afford the necessary flexibility and agility to respond to a constantly-changing cyber threat
For more information, and to access the report, please visit the API website.
NOPSEMA Releases 2017-2018 Annual Report
On 23 October, NOPSEMA released its most recent annual report covering operations from 1 July 2017 through 30 June 2018. The report includes a snapshot of industry performance, an overview of NOPSEMA, performance reporting and annual performance analysis addressing key performance indicators.
To access the full report, please visit the NOPSEMA website.
Texas A&M Student Chapter Members Tour Latshaw Rig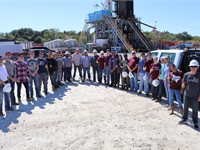 On 11 October Texas A&M Student Chapter members were invited to tour Latshaw Rig 15 outside of Bryan, Texas. The students were able to observe a working drilling operations and discuss well construction with the Operator Representatives and Latshaw Supervisors and crew. It also provided an opportunity to understand the connection between academic applications and field drilling operations and the students were able to learn more about career opportunities and life after graduation.
OSHA Issues Memorandum on Workplace Safety and Drug Testing
On 11 October, OSHA issued a memorandum on workplace safety incentives and drug testing. The purpose of the memorandum is to clarify the Department's position that 29 C.F.R. 1904.35 (b)(1)(iv) does not prohibit workplace safety incentive programs or post-incident drug testing. The department believes that many employers who implement safety incentive programs and/or conduct post-incident drug testing do so to promote workplace safety and health. In addition, evidence that the employer consistently enforces legitimate work rules would demonstrate that the employer is serious about creating a culture of safety, not just the appearance of reducing rates. Action taken under a safety incentive program or post-incident drug testing policy would only violate the code if the employer took the action to penalize an employee for reporting a work-related injury or illness rather for the legitimate purpose of promoting workplace safety and health.
In addition, most instances of workplace drug testing are permissible, including:
Random drug testing.
Drug testing unrelated to the reporting of a work-related injury or illness.
Drug testing under a state workers' compensation law.
Drug testing under other federal law, such as a U.S. Department of Transportation rule.
Drug testing to evaluate the root cause of a workplace incident that harmed or could have harmed employees.  If the employer chooses to use drug testing to investigate the incident, the employer should test all employees whose conduct could have contributed to the incident, not just employees who reported injuries.
More information can be found on OSHA's website.
FMCSA to Study Commercial Motor Vehicle Driver Safety
The Federal Motor Carrier Administration (FMCSA) recently announced its plan to submit the Information Collection Request (ICR) to the Office of Management and Budget (OMB) for its review and approval and is inviting public comment. For IADC members who move rigs or who require CDL's of their employees, this ICR is associated with FMCSA's study to investigate how commercial motor vehicle drivers' schedules impact overall driver performance and safety. The FMCSA will use the data to answer important research questions related to driver schedules and how they affect overall driver performance and fatigue. The deadline for comments is 24 December.
For more information, please visit the FMCSA website.
Missouri S&T Chapter Members Sponsor Oil and Gas Speakers on Campus
In October, the IADC student chapter at the Missouri University of Science and Technology sponsored two speakers to talk about issues pertinent to the oil and gas industry. On 11 October, Dr. Perrin Roller, P.E., spoke on the Deepwater Horizon well blowout incident and on 29 October, Dave Carpenter, retired Senior Manager with Shell, spoke about the Haynesville shale play's drilling performance.
EIA Releases October 2018 Drilling Productivity Report
The U.S. Energy Information Administration (EIA) recently released their Drilling Productivity Report for October 2018. The report uses recent data on the total number of drilling rigs in operation, along with estimates of drilling productivity and estimated changes in production from existing oil and gas wells to provide estimated changes in oil and natural gas production for seven key regions. EIA's approach does not distinguish between oil-directed rigs and gas-directed rigs because once a well is completed it may product both oil and gas; more than half of the wells produce both.
More information can be accessed via the EIA website.
IOGP Publishes Environmental Performance Indicators Report
IOGP recently published their Environmental Performance Indicators Report, which uses data from 2017. The report summarizes information on exploration and production (E&P) activities carried out by contributing IOGP member companies in 2017.  The objective of this program has been to allow member companies to compare their performance with other companies in the sector leading, it is hoped, to improved and more efficient performance. The program also contributes to the industry's wish to be more transparent about its operations.
The reports are available to download from the IOGP Bookstore.
University of Louisiana-Lafayette Students Tour Facility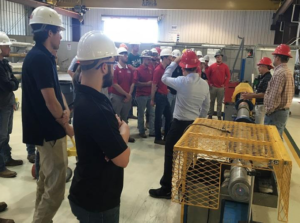 On 26 October, 38 students from the University of Louisiana-Lafayette IADC student chapter toured the Sperry Drilling (Halliburton) facility in Broussard, Louisiana. The group was treated to a four-house comprehensive tour of the facility, which helped close the gap between theory and practical applications in the drilling business.
EU Commission Issues Invitation for Public Consultation on Offshore Safety Directive
On 19 September, the EU Commission issued an invitation for a public consultation period through 21 December 2018. In keeping with its obligation to meet the 19 July 2019 reporting mandate to the Parliament and Council, the Commission will utilize responses to this consultation as a basis for its report on the effectiveness of the Offshore Safety Directive since entering into force on 19 July 2013.
This consultation provides stakeholders the opportunity to comment on respective observations to contribute the background information necessary for the Commission to make an accurate assessment of the effectiveness of the directive to date.
IADC is currently assessing this consultation invitation in conjunction with interested member stakeholders to comprise beneficial and informative responses. Interested parties are encouraged to independently provide comment as appropriate.
Further details can be found here:
https://ec.europa.eu/info/consultations/public-consultation-on-the-evaluation-of-the-offshore-safety-directive_en
IADC Membership Survey
In an effort to ensure that IADC is providing a high level of value to its Members and the industry, the Association has put together a satisfaction survey to solicit feedback. The survey takes approximately 6-8 minutes to complete and participation in the survey gives IADC valuable information.
To take the IADC Membership Survey, please click here.
IADC Headquarters Has Relocated
IADC has moved! The IADC Houston office opened the doors to its new headquarters on 2 July, 2018.
The new IADC headquarters is located at 3657 Briarpark Drive, a mere half a mile from the old building. It offers a brand new, custom-designed office space, and modern meeting facilities that offer significant value to IADC's members.
ACCREDITATION
IADC WellSharp Well Servicing Accreditation

IADC recently launched the new WellSharp Well Servicing Accreditation which replaces the old WellCAP well servicing courses. The new accreditation offers four standalone course options, which include coiled tubing; snubbing; wireline and workover. It also introduces two new courses, which include Subsea Supplement and Oil and Gas Operator Representative Workover & Intervention Well Control.
The first WellSharp track, for drilling operations, was launched in 2015. It was the result of an industry-led effort to improve well control training and assessment. Compared with WellCAP, the curriculum puts greater emphasis on risk awareness and assessment.
For more information about converting to the new WellSharp Well Servicing Accreditation, please contact IADC's Accreditation Department.



IADC COMMITTEES
DEC Q4 Tech Forum to Focus on Equipment Performance, Reliability
The IADC Drilling Engineers Committee (DEC) will hold its Q4 Technology Forum on 14 November in Houston. The theme of this event is "Impact of Advances in Technology on Equipment Performance and Reliability." Presentations will address how improved technology has advanced equipment performance and reliability, both downhole and at surface.
Speakers at the event include:
Eric van Oort and Pradeep Ashok, UT Austin RAPID
Josh Myers, Nabors Drilling Technologies USA
Mark Siegmund, BP
Chad Rabitoy, Intertek
Garry Davis, BOP Risk Mitigation Services
Wei Zhang, Halliburton
Federico Amezaga, Weatherford
John Holmes, Baker Hughes, a GE company
To register for the event or to see the complete agenda, please click here.
DDR Plus Granular Coding System Available for Review
The IADC ART Drilling Controls Systems Subcommittee has posted for review a draft of its proposed system of codes and subsidiary subcodes for the IADC Daily Drilling Report, an explanation of the codes, and a description of the work to date on developing a schema for electronic implementation of the DDR Plus.
The draft system of codes, subcodes, and sub-subcodes can be found here. A guide to the draft spreadsheet is here .
IADC encourages comments on the draft. Please send comments to DDR_Plus@iadc.org.
IADC recently commissioned Calgary-based Integrated Data Services (IDS) to prepare a schema for the new electronic DDR Plus, and to redesign the print version. The status of that effort can be found here . The entire project will be completed before the end of Q1 2019.
The DDR Plus project maintains the existing 23 main codes and six completion codes for time distribution, and adds six additional drilling-related codes, along with a number of subcodes and sub-subcodes for greater granularity. None of the proposed IADC codes, subcodes, or sub-subcodes will be mandatory. There is a total of 35 main codes, six of them new.
IADC is seeking volunteers to provide precise definitions for the 35 main codes to provide users with a common framework. If you wish to volunteer for a code (listed below), please email DDR_Plus@iadc.org.
The proposal includes the 35 main codes, 189 primarily activity-related subcodes, and 270 sub-subcodes primarily related to equipment. Only a few sub-sub-subcodes were proposed. Each subcode or sub-subcode is assigned a unique number that will identify that sub- or sub-subcode across all relevant main codes. For example, for activities (subcode) "flow check" will always be number 16, irrespective of related code, and, for equipment (sub-subcode) "drill pipe" will always be 65.
Most of the additional subcodes and sub-subcodes were contributed by IADC-member drilling contractors, with others adopted from those use by the Canadian Association of Oilwell Drilling Contractors (CAODC). The CAODC system uses the original 23 codes on the DDR. (The reason is that during the early 1970s, IADC gave permission to CAODC to copy and use the IADC DDR.)
The original 23 codes are:
1: Rig Up and Tear Down
2: Drilling
3: Reaming
4: Coring
5: Condition Mud & Circulate
6: Trips
7: Service/Maintain Rig
8: Repair Rig
9: Cut Off Drilling Line
10: Deviation Survey
11: Wireline Logs
12: Run Casing & Cement
13: Wait On Cement
14: Rig Up BOP
15: Test BOP
16: Drill Stem Test
17: Plug Back
18: Squeeze Cement
19: Fishing
20: Directional Work
21: Run/Retrieve Riser Equip.
22: Surface Testing
23: Other (blank)
The six new codes are:
24: Non-Productive Time
25: Operating Status
27: Safety
27: Well Control
28: Coiled Tubing
29: Misc
The existing completions codes, currently represented by letters, will be identified by numbers moving forward. These are:
30 (formerly A): Perforating
31 (B): Tubing Trips
32 (C): Treating
33 (D): Swabbing
34 (E): Testing
35 (F): Subsea Installations
Code 36 will be blank and reserved for future use.
For more information about the DDR Plus project, or the IADC ART Committee, please contact Mike Killalea, 713-292-1956, mike.killalea@iadc.org
INDUSTRY RESOURCES
DrillPad Strives to Help Build Well Control Proficiency
IADC's Useful Resources web page offers a link to materials designed to help build and assure individual and crew well control competency and proficiency anywhere in the world. The DrillPad Deployment Well Control Drill Trainer Training Template and the companion DrillGuide Example are freely available from the www.iadc.org/useful-resources.
"IADC is pleased to offer these DrillPad resources through our website, and believes that this will be a positive step for the industry," remarked IADC President Jason McFarland. "IADC has long pioneered and worked to develop industry best practice for training in well control, and DrillPad neatly dovetails with our mission of ensuring safe rigs worldwide."
The PowerPoint file DrillPad Trainer Training is offered to assist trainers in developing an effective program of well control drills. It includes keys to effective drills, critical skill sets, grading criteria, common pitfalls, and more.
The PDF Well Control Drill Guide provides lists of drills, questions, and attributes within DrillPad. The guide is meant to be used in conjunction with rig-specific well control procedures to conduct and assess performance during well control drills. The objective is to ensure that all members of the rig team with well control responsibilities are aware of their specific responsibilities, possess an understanding of well control commensurate with those responsibilities, and can confidently execute their duties when required.
Each well control drill details the drill type, potential participants, exercises, caution guidance, assessment guidance, questions, skills assessed, and more.
DROPS RP and Gap Analysis Tool Available from IADC
The Useful Resources page on www.iadc.org provides a link to a Recommended Practice to prevent and mitigate dropped objects in oil and gas operations. Dropped objects are a critical safety issue in numerous industries. This Recommended Practice, developed by the DROPS network, intends to set basic requirements for dropped object prevention that can be incorporated into existing companies' Safety Management Systems (SMS). DROPS is an industry-wide oil-and-gas initiative whose mission is to prevent dropped objects by providing supporting engagement and learning materials, as well as setting industry-recognized best practices. The link also provides access to the DROPS RP Gap Analysis Tool, an Excel spreadsheet.
"Improving industry HSE and training is a major IADC mission," said IADC President Jason McFarland. "As such, helping industry cut the incidents of dropped objects is important to our members and their employees. We hope that helping our members easily access this DROPS RP
According to DROPS, the RP sets out minimum recommended practices that support the prevention of dropped objects and the development of policies and procedures for company SMSs. DROPS notes that the RP is not intended to be considered the finalized requirements of a company Dropped Object Prevention Scheme (Scheme).
The link to the DROPS RP and Gap Analysis Tool is at www.iadc.org/useful-resources.
IADC ISP Plaques Showcase Company Safety Record
Safety should not be competitive in the drilling industry, but bragging rights always are!
You have worked hard to build an impressive safety record. Your employees pay close attention to ensure that they work safely.
Let your customers know about it. IADC ISP plaques are a stand-out way to ensure the world knows how successful your accident prevention program is.
IADC has two types of ISP plaques available. The Executive Grade: Bronze-tone safety excellence medallion on a red velvet background with gold engraved text on a raised bronze-tone plate. Supreme Grade: Laser engraved text with company name, rig name or number and IADC logo in raised gold lettering. Both plaques include company name, rig name or number with the numbers of years without a Lost time or recordable incident.
IADC acknowledges the rigs in the monthly DrillBits newsletter.
Get extra plaques for the office, rig, and your top employees. Fire those guys up with a well-deserved pat on the back.
IADC ISP plaques are only available to companies participating in the IADC ISP program, the industry's definitive safety statistics program since 1961.
For more information on ordering plaque please contact Loretta Krolczyk at loretta.krolczyk@iadc.org.
To participate in ISP, please email isp@iadc.org
New Drilling Matters Module Encourages Careers in Oil and Gas
The latest DrillingMatters.org video module encourages young people to seek careers in oil and gas, and includes interviews from two young professionals. The video is titled "Live an Adventure: Make Your Career in Oil and Gas."
Theresa Baumgartner, Shell, and Stephanie Mertz Farrar, Phoenix Energy Services, graciously shared their thoughts and experiences on the value, excitement, and opportunity to make big changes in their jobs.
Ms. Farrar noted that she knew little about oil and gas when she graduated with a degree in mechanical engineering from the University of Florida. "When you graduate with a mechanical engineering degree, there are a lot of different areas you could go into," she said. Ms. Farrar chose oil and gas after receiving an offer for an international assignment with significant perks. "I jumped right on that bandwagon and I worked in Norway for 3 years after that," she said.
Ms Baumgartner was attracted by the multinational nature of the industry, and the romance of drilling.
"You see all these pictures about drilling rigs in the desert and offshore platforms and that is very interesting and intriguing, especially for young people," she says in the video. "From my perspective, I can say it is very international, I have worked with multiple research groups and different companies and usually those are only 10% Americans and the rest is internationals, Europeans, Chinese, Indian from all over the world that try to solve probably the hardest problems."
The video module points out that nearly 1.9 million direct job opportunities are forecast through 2035, with significant inroads for diversity by gender and ethnicity.
Oil and gas is a global industry with nearly boundless and diverse career options. In it, you can find careers where you will travel, work in an office or in the field; in the lab, engineering, sales, management, IT, cybersecurity, and more.
No matter where your interests lie, oil and gas can take you there.
Watch the video at http://drillingmatters.iadc.org/live-an-adventure-make-your-career-in-oil-and-gas/
IADC Lexicon Featured Term for November 2018
The IADC Lexicon (IADCLexicon.org) is a compendium of upstream-related terms, which, unlike conventional glossaries, are official definitions drawn from legislation, regulation and regulatory guidance, standards (global, national and regional), and IADC guidelines. Terms often have multiple definitions from different sources.
This month's Featured Term is:
"Installation Contractor" (Source: API RP 17L2, Recommended Practice for Flexible Pipe Ancillary Equipment, First Edition, March 2013.) :

RParty contracted to perform installation of the flexible pipe system and/or ancillary equipment. Such installation could be in the manufacturer's scope of work.

(click the link to read the full definition on the IADC Lexicon.)
Accreditation Updates
RigPass
T AND R SAFETY (SafeLandUSA) – USA

NEFT ENERGIES TRAINING CENTER – SAUDI ARABIA
DIT
Saudi Arabian Drilling Academy (SADA) – Kingdom of Saudi Arabia

Safety Alerts
For the latest safety alerts, visit www.iadc.org/safety-alerts
Alert 18-02: Fatality – Struck by/Caught Between Pipe Handling Catwalk Machine

Upcoming Events
Rigs Receive ISP Certificates
For certificates received since last LTI (in years):

Caspian Drilling Company: Dada Gorgud (8);
COSL Drilling Pan-Pacific LTD.: COSL Craft (1); COSL Craft (5); COSL Strike (9);
TCI Int'l Australia PTY LTDB: Rig 1 (1);
Weatherford Drlg Int'l: Rig 144 (17); Rig 811 (7); Rig 875 (4); Algeria Support Team (3); Kuwait Support Team (3).
For certificates received since last recordable incident (in years):
Sidewinder Drilling LLC: Sidewinder 106 (1);
Weatherford Drlg Int'l: Rig 3 (1); Rig 40 (3); Rig 151 (2); Rig 798 (1); Rig 811 (3); Rig 828 (1); Rig 875 (1); Algeria Support Team (3); Kuwait Support Team (5); Kuwait Support Team (1).
New IADC Members
IADC welcomes 17 new members:

ACOSTA & EVANS HANDLING SL, SANTA CRUZ DE TENERIFE, SPAIN;

AGENCIA DE FORMACION, CONSULTORIA Y CERTIFICACIONE, COATZACOALCOS, VERACRUZ, MEXICO:
AL-KEBAR TRAINING CENTER, AL-KHOBAR, SAUDI ARABIA;
BRIGHTIOM INC., IRVINE, CALIFORNIA, USA;
DARK HORSE SAFETY, INC, ANDREWS, TEXAS, USA;
ENERGISTICS, HOUSTON, TEXAS, USA;
EOS EUROPE LTD, WESTHILL, ABERDEEN, UNITED KINGDOM;
GAC NORTH AMERICA REGIONAL OFFICE, HOUSTON, TEXAS, USA;
LIMITED LIABILITY COMPANY "NAFTAGAZ-DRILLING", MOSCOW, RUSSIA;
MELCURT NIGERIA LIMITED, WARRI, DELTA STATE, NIGERIA;
NUCOR, INC, RIVERTON, WYOMING, USA;
OMAN INSTITUTE OF OIL AND GAS, MUSCAT, OMAN;
PPDM ASSOCIATION, CALGARY, ALBERTA, CANADA;
SEMCO MARITIME, HOUSTON, TEXAS, USA;
STRATADRILL OILFIELD SERVICES DMCC, DUBAI, UNITED ARAB EMIRATES;
TEJANO SERVICES, MCALLEN, TEXAS, USA;
XI'AN YIDING PETROLEUM TECHNOLOGY CO., LTD, SHAANXI PROVINCE, CHINA
DRILLBITS Volume 28, Number 10

Steve Brady, Chairman • Jason McFarland, President • Amy Rose, Editor
All listed phone extensions are for IADC's Houston headquarters,
+1/713-292-1945. Fax +1/713-292-1946.
Send comments/questions to Amy Rose at amy.rose@iadc.org.
To subscribe to Drill Bits, go to www.iadc.org/drillbits.
To change/cancel a Drill Bits subscription, send an e-mail message to
IADC Director – Membership Sharon Thorpe at sharon.thorpe@iadc.org.