DRILLBITS – April 2016
This Month's Articles
Sign Up For the DRILLBITS Email Newsletter!
IADC Hosts Lunch and Learn on Capitol Hill, Meets with Lawmakers
During the week of 11 April, IADC members and staff hosted a Lunch and Learn event on Capitol Hill and met with several US Senators and Members of Congress. Jay Minmier, President, Nomac Drilling; Mike Garvin, Senior Vice President, Operations Support, Patterson-UTI Drilling Company; Joey Husband, Vice President Global Operations, Nabors Drilling Solutions and Scott McKee, Contracts and Marketing Lead, Cactus Drilling Company, along with Liz Craddock, IADC Vice President, Regulatory and Government Affairs and Melissa Mejias, Legislative Assistant, hosted the 12 April "IADC Onshore Drilling 101" Lunch and Learn for more than 60 attendees.
Following that, the group met with Senators, Members of Congress and staff from Texas, West Virginia, North Dakota, Louisiana, Colorado, Oklahoma, New Mexico, Utah and Alaska
"The opportunity to educate individuals creating our nation's energy laws and regulatory policy is something IADC is proud to do. Our members believe that by providing at least a base level of understanding of how the industry functions and operates, we will aid in the more knowledgeable and efficient formation of regulation and legislation that ultimately better serves the U.S. taxpayer and industry," said Liz Craddock, IADC Vice President, Policy, Government and Regulatory Affairs. "Drilling contractors are mainly small businesses with a vital role in the upstream oil and gas industry. As such, they have a unique voice and story to tell and while in D.C., we had the opportunity to meet with several Senators and Members of Congress to discuss the current state of the industry and our commitment to safety and we were able to give them a better sense of who IADC's members are and what we do."
IADC Comments on BSEE Blowout Preventer, Well Control Requirement Final Rule
On April 14, the U.S. Bureau of Safety and Environmental Enforcement's (BSEE) release the final rule regarding blowout preventer (BOP) requirements and reforms in the areas of well design, well control, well monitoring and subsea containment. In response, IADC President Jason McFarland issued the following statement:
"As the owners of drilling rigs and blowout preventers, IADC members are acutely impacted by this rule. Since BSEE issued its initial proposal last year, our members have participated in joint industry workgroups to carefully consider each of the points of the lengthy and detailed Well Control Rule, and submitted comments several months ago. Those comments addressed serious issues with some of the technical requirements of the proposed rule, the timing of its implementation and what was determined to be an underestimation of the estimated costs of the proposed requirements."
"IADC's subject matter experts will, over the next several days, continue to digest the technical aspects of the rule to determine its implications. Our hope, of course, is that BSEE took into consideration the meticulous work of so many industry experts in composing a final rule that enables safe offshore drilling activities without imposing undue financial hardship on those who operate on the outer continental shelf."
"What often gets lost in this discussion is how much work the industry has done since the Macondo incident to improve offshore safety. This industry did not wait for BSEE to issue regulations to make major changes to our operations and procedures. IADC members are committed to safety and have developed and implemented major changes with regard to equipment, procedures and safety protocols to protect against future well control incidents."
IADC Nigeria Chapter Awards Excellence in Safety
Robust Offshore Leasing Program Crucial for Drilling Contractors, IADC Comments on Draft 2017-2022 Outer Continental Shelf Leasing Program
On 26 April, the US Interior Department's Bureau of Ocean Energy Management (BOEM) hosted a public meeting on the draft 2017-2022 Outer Continental Shelf Oil & Gas Leasing Proposed Program. In response, IADC President Jason McFarland issued the following statement:
"A robust oil and gas leasing program in the U.S. Gulf of Mexico and off the coast of Alaska is critical to the future success of offshore drilling contractors. As the BOEM notes in their own proposal, in 2014, the US produced more than 49 quadrillion btus of oil and gas. Even with the rapid increase in unconventional onshore oil and gas production, the outer continental shelf will continue to be an important source of oil and gas for decades to come as it is expected that nearly 1.9 million barrels of oil will be produced per day offshore in 2016. The U.S. still uses nearly 20 million barrels of oil per day. That oil can either be obtained by import from overseas or from our own U.S. reserves, which has the added benefits of jobs and taxes and which contribute to the overall economy. Given these facts, it is absolutely crucial that the five-year program offer extensive opportunity for further exploration, development and production."
"IADC members believe that the U.S. requires energy policies that facilitate energy exploration and production, as these activities fuel our economy. Case in point: the oil and gas industry supports more than $1 trillion in total value added to the economy, representing 7.3 percent of U.S. GDP. Additionally, outer continental shelf revenues, totaling more than $8 billion a year, and more than $220 billion since the first offshore well was drilled, is the source for the $900 million which funds projects authorized by Congress through the Land and Water Conservation Fund, creating and protecting national and local parks, areas around rivers and lakes, national forests, and national wildlife refuges."
"Year after year this industry finds new ways to innovate with regard to technology and equipment, along with improved safety measures and procedures that protect both our workforce and the environment. We continue to encourage the Department of the Interior, and the Administration, to put forth policies that are supportive of this industry, which so greatly contributes to the overall U.S. economy."
IADC North Sea Chapter Presents Annual Safety Awards
Members of the International Association of Drilling Contractors (IADC), North Sea Chapter gathered for its Annual Safety Awards Ceremony on 22 April 2016 at the AECC, Aberdeen.
Ivor McBean, Diamond Offshore, and Gary Holman, Awilco Drilling, Co-chairs of the IADC North Sea Chapter welcomed a large turnout to the event. Guest speakers on the evening were IADC President Jason McFarland and Steve Rae, Vice President QHSE, Archer.
"Everyone is aware of the extremely difficult times the industry is facing and despite the challenges and uncertain future in terms of oil price and activity levels, the industry will continue to focus on the most important aspect of our business – the safety of our personnel," said Ivor McBean.
Gary Holman commented: "It is heartening to see the continued collaboration by our members in safety matters in workgroup meetings and with external bodies. This year has seen the Chapter issue a number of publications which relate to safety in our industry."
A number of awards were presented to companies and installations for their safety record over the last year with the awards for best safety performance in 2015 going to Noble Drilling and Ensco in the Jack-ups category; Stena Drilling in the Floating Rigs category and Odjfell Drilling in Platform drilling.
Chairman's Awards, which recognize individual rigs and their crews that had the best safety performance in 2015, went to Maersk Innovator, Maersk Drilling (Jack-up); Deepsea Atlantic, Odjfell Drilling (Floating Rig); and Dunbar, KCA Deutag (Platform).
The Associate Member Award was presented to Blaze Manufacturing Solutions.
The event was hosted by broadcaster and Deacon Blue drummer Dougie Vipond with entertainment from comedian and presenter Des Clarke. Funds raised on the evening will be donated to Macmillan Cancer Support and the UK Oil & Gas Chaplaincy Trust.
A special donation will be made to VSA by The Val Hood Award, which was established in honor of a former colleague.
The full list of winners was as follows:
IADC NSC Safety Award Ceremony – 22 April 2016
Associate Member Award

Blaze Manufacturing Solutions
Best Safety Performance Awards 2015
Winner:            Over 1 million manhours:     Ensco
Winner:            Under 1 million manhours:  Noble Drilling
Winner:                       Stena Drilling
Runner up:                 Odfjell Drilling
Winner:                       Odfjell Drilling
CHAIRMAN'S AWARD
Best Safety Performance 2015 Jack-up:                 Winner: Maersk Innovator, Maersk Drilling
Runner up: Ensco 71, Ensco
Best Safety Performance 2015 Floating Rig:          Winner: Deepsea Atlantic, Odfjell Drilling
Runner up: WilHunter, Awilco Drilling
Best Safety Performance 2015 Platform                 Winner: Dunbar, KCA Deutag
Runner up: Forties Charlie, Archer
English Court of Appeal Rules in Favor of Transocean; Positive Implications for Drilling Contractors
In a significant court decision that is a victory for drilling contractors, the English Court of Appeal ruled in favor of Transocean with regard to how drilling contract consequential loss clauses should be interpreted.
In 2014, the English Commercial Court ruled against Transocean in a case involving an Irish operating company. The operator in the case alleged that Transocean was responsible for paying the operator's spread costs associated with unplanned downtime. The ruling had far-reaching implications, as it held that drilling contractors could be responsible for operator spread costs during major contractor downtime events.
In response, Transocean began the process of appealing this specific portion of the ruling. IADC lent its support to a petition to the court on behalf of industry asking the court to grant Transocean an appeal.
"IADC supports its members when it comes to the integrity of drilling contracts. In this case, we worked closely with Transocean to submit documents that supported Transocean's stance," said Jason McFarland, IADC President. "The decision of the appeals court last week is a significant win for Transocean and for drilling contractors globally".
IADC Members Meet with Louisiana Congressman Garret Graves
CNH/IADC Discuss Regulations for Mexico's Upstream Industry
On 9 March, Mexico's National Hydrocarbon Commission (CNH) met with IADC to obtain industry input on CNH's regulatory priorities. Juan Carlos Zepeda Molina, the President Commissioner of the CNH, said he hopes the cooperation between the two groups will help CNH to develop more robust regulations for Mexico's upstream industry. Click below to watch a video of Mr. Zepeda outlining CNH's goals for the coming year and its efforts to be a transparent and reliable organization that will earn the trust of the Mexican people.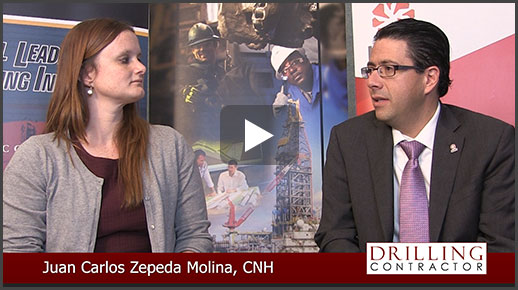 IADC Author Sweatman Honored by AADE
Ronald E Sweatman, author of "Well Cementing Operations", published in 2015 by IADC, was inducted into the American Association of Drilling Engineers Hall of Fame on 12 April. Mr Sweatman was recognized "for his significant contributions to the advancement of cementing and other well services through patented technologies and numerous publications", AADE said. The induction occurred during the AADE 2016 National Fluids Technical Conference, held 12-13 April, Houston.
"This is a great honor," Mr Sweatman remarked. "I am very happy to know that my industry service and technical achievements have been appreciated by the AADE and others, like IADC, SPE, and API."
"Well Cementing Operations" is the most comprehensive and in-depth treatment of cementing available. The book covers techniques and developments never before published in a single source – overview of basic well-cementing theory, best practices and real-world applications, calculations and problem-solving exercises. Historically available only through experience or industry short courses, the information contained in this handbook is a valuable learning tool for readers at all levels. Published under the auspices of the IADC Technical Publications Committee.
Mr Sweatman's "classmates" for the AADE Hall of Fame "Class of 2016" are:
Dr Claude E Cooke Jr: For his many contributions to cementing technology and pioneering development of hydraulic fracturing fluids, including the invention of ceramic proppants;
Kelly B Fox: For his pioneering work on synthetic polymers for brine viscosification and friction reduction in coiled tubing and fracture fluids;
Stephen C Polnaszek: For his field application of water-based, environmentally friendly drilling fluids encompassing shale stability, horizontal and HTHP applications, and leadership of API committee SC13;
Arvind D Patel: For his extensive research into shale inhibition, pioneering use of amines in clay control, along with innovations in reversible invert emulsion drilling fluids;
Mario Zamora: For his pioneering work in hydraulics, rheology, barite sag, software development and his leadership role in the fluids industry.
To view a video of Mr Sweatman discussing "Well Cementing Operations", go to www.iadc.org/technical-resources and scroll to the bottom of the page. The book is available through the IADC Bookstore and, in electronic format, through the IADC eBookstore.
Louisiana Federal Court Rules on Contractor Liability Under OCSLA
In April, the United States District Court for the Eastern District of Louisiana ruled definitively that BSEE cannot enforce criminal liability under the Outer Continental Shelf Lands Act (OCSLA) against offshore contractors. The question of contractor liability in the case arose from litigation related to the Black Elk Energy offshore incident, which occurred in 2012 off the coast of Louisiana. The Court held that the plain language of OCSLA and its regulations do not support a criminal charge against contractors, an argument that drilling contractors have been advancing for several years.
Also of note, the appeal to the Interior Board of Land Appeal's Island Operating Co. opinion, which affirmed BSEE's civil penalty authority over contractors under OCSLA is now on appeal in the Western District of Louisiana. The Eastern District Court voiced it hesitancy to allow the contractor defendants to be criminally prosecuted for OCSLA violations when it has not yet been established that they can be subjected to civil penalties. The government has until mid-May to appeal the case.
Accreditation Updates
RigPASS
CAPACITADORES UNIDOS EN LA RAMA DE SEGURIDAD INDUSTRIAL, (Conditional), Mexico;
CHET MORRISON CONTRACTORS S. DE R.L. DE C.V., (Conditional), Mexico;
CONSORCIO MEXICANO PARA FORMACION DE TECNICOS EN PERFORACION DE POZO PETROLEROS, SC. (Conditional), Mexico;
MAERSK TRAINING INDIA PVT LTD, (Conditional), India;
PCI BAHRAIN (Conditional) Kingdom of Saudi Arabia;
DIT
CAPITAL SAFETY TRAINING AND SERVICES, United Kingdom;
INDUCTION CENTER, Kuwait;
PETROMENTOR INTERNATIONAL EDUCATION (BEIJING) CO LTD, China;
PFL ENGINEERING SERVICES LIMITED, Nigeria;
R.A. PANDEY INSTITUTE OF ADVANCE EDUCATION, India
WellSharp
Ensco Luanda Angola, Angola;
Noble Drilling, Sugar Land, Texas, US;
Safety Alerts
For the latest safety alerts, visit www.iadc.org/safety-alerts
Alert 15-05: Smashed fingers on tongs

Alert 15-06: Caught between winch truck and half pit
Alert 15-07: Poor situation awareness/Line of fire incident results in OSHA Recordable
Rigs Receive ISP Certificates
For certificates received since last LTI (in years):

Dynamic Drilling & Services PVT LTD: Valiant Driller (1);
Energy Drilling Co.: Rig 14 (4);
Noble Drilling: Noble Houston Colbert (2);
PV Drilling: PV Drilling III (6); PV Drilling VI (1); PV Drilling VI (3);
Thermaprime Drilling Corporation: Rig 2 "Explorer" (1)
For certificates received since last recordable incident (in years):
Pacific Drilling: Pacific Kahmsin (1);
Sidewinder Drilling Inc.: Rig 62 (2);
Transocean: Transocean Honor (1)
New IADC Members
IADC welcomes 20 new members:

24 HOUR SAFETY CO W.L.L., MANAMA, BAHRAIN;
ALLRIG BV, NOORD-SCHARWOUDE, THE NETHERLANDS;
ARABIAN ENVIRONMENTAL SCIENCE LTD COMPANY, AL KHOBAR, EASTERN, SAUDI ARABIA;
CLAIM SERVICES S.A. DE C.V., CARMEN, CAMPECHE, MEXICO;
CORPORATIVO MARCHA S.A. DE C.V., CARMEN, CAMPECHE, MEXICO;
DP-MASTER MANUFACTURING (S) PTE LTD, SINGAPORE;
ENGINEER TRAINING CENTER (ETC), DAMMAM, EASTERN, SAUDI ARABIA;
EXODRILL PTY LTD, KESWICK, SOUTH AUSTRALIA, AUSTRALIA;
FIDGETS OILFIELD SERVICES LLC, CHECOTAH, OKLAHOMA, USA;
GANNET OFFSHORE AS, OSLO, NORWAY;
HARRIS PYE ENGINEERING GROUP, DUBAI, UNITED ARAB EMIRATES;
INTERNATIONAL RIG AND OILFIELD SERVICES LTD, KUALA LUMPUR, MALAYSIA;
I-SCAFF LTD (I-TRAIN INTERNATIONAL), GLENROTHES, FIFE, UNITED KINGDOM;
LIAONING LIAOHE DRILLING ENGINEERING CO, LTD, HAICHENG, LIAONING, CHINA;
LOT DOWNHOLE PRODUCTS, DMCC, DUBAI, UNITED ARAB EMIRATES;
RC DRILLING LLC, DRUMRIGHT, OKLAHOMA, USA;
REGIONAL MARINE & ENGINEERING SERVICES PTE LTD, SINGAPORE;
SAVANNAH OIL SERVICES CAMEROON, AKWA, DOUALA, CAMEROON;
SEA NATION LLC, HOUSTON, TEXAS, USA;
SRI ENERGY, INC, STAFFORD, TEXAS, USA
DRILLBITS Volume 26, Number 4

Tom Burke, Chairman • Jason McFarland, President • Amy Rose, Editor
All listed phone extensions are for IADC's Houston headquarters,
+1/713-292-1945. Fax +1/713-292-1946.
Send comments/questions to Amy Rose at amy.rose@iadc.org.
To subscribe to Drill Bits, go to www.iadc.org/drillbits.
To change/cancel a Drill Bits subscription, send an e-mail message to
IADC Director – Membership Sharon Thorpe at sharon.thorpe@iadc.org.