DRILLBITS – August 2012
This Month's Articles
Sign Up For the DRILLBITS Email Newsletter!
IADC, BROA detail MLC implementation issues
IADC and the British Rig Owners Association (BROA) have jointly responded to the Maritime Labour Convention (MLC), 2006. IADC and BROA, the trade association for British owned and managed rigs operating on the UK continental shelf, wrote in support of prior comments submitted by the UK Chamber of Shipping and addressed potential impacts of MLC ratification and implementation within the UK. The joint letter included annexes that addressed:
Crew accommodation regulations: Multiple occupancy cabins for crews are normal practice and are necessitated by the density of equipment and size of the work force. To change this in favor of single-occupancy cabins on new platforms is not feasible in all cases and may be prohibitively expensive. Also, specifications of ventilation system performance are beyond the scope of the MLC itself, and the excessive requirements should be removed.
Food and catering regulations: Better guidance is needed on the use of chlorine and chloramine in water treatment. Further, the requirement for fresh water tanks to be emptied, inspected, cleaned and overhauled on a 12-month basis is considered excessive given the longevity of modern systems.
Medical care regulations: The requirement to carry a doctor if more than 36 hrs of sailing time from a suitable port is not suited to MODUs, which are covered by other means of assistance and personnel transfer, such as helicopter services and standby vessels. Additionally, the liability of the shipowner for expenses related to a seafarer's illness or injury should be constrained to that imposed by the MLC. The proposed wording of "any expense reasonably incurred" is too wide and will lead to inconsistent application.
Shipowner liability: The MLC is specific about which shipowner is required to provide financial security, and the UK's implementation should mirror that clarity.
Other comments on MLC and MODU operations: International understanding of whether the flag or coastal State will have responsibility for: identification of competent authorities, enforcement responsibilities, employment agreements, control over wages and calculation of wages for work exceeding eight hours per day, hours of work and rest regulations, inspections and consultation. Also, obligations for repatriation to the country of residence should not be placed upon the shipowner for foreign nationals who have obtained authority to work in the coastal State, were hired in the coastal State and are governed by a labor agreement in the coastal State. It must be clear whether the coastal State will be willing/obligated to accept the manning levels established by the flag state.
The groups' concerns, among others within those categories, are derived from the fact that MODUs are subject not only to their flag State's maritime regulations and maritime enforcement but also to the laws of the nation on the continental shelf of which they operate. These regulations, in combination with the MLC, can create conflict between requirements of local land-based regulators and those of the MLC/flag State.
For more information, please contact Alan Spackman at ext 207 (alan.spackman@iadc.org).
IADC applauds effort to improve OCS leases
IADC and its allies API, NOIA and IPAA have expressed strong support for HR 6082 in a joint letter to US Rep. Doc Hastings, R-Wash., noting that the bill proposes significant improvements to the Obama Administration's final Outer Continental Shelf (OCS) Oil and Gas Leasing Program for 2012-2017. Congressman Hastings is chairman of the House Committee on Natural Resources, which has jurisdiction over OCS leasing and which reported HR 6082 to the full House. HR 6082 is titled "Congressional Replacement of President Obama's Energy Restricting and Job Limiting Offshore Drilling Plan."
"The provisions in HR 6082 propose a more robust offshore leasing program that would encourage a greater number of offshore projects, resulting in greater growth in domestic oil and natural gas production and create jobs in far greater numbers than could be expected from the Administration's final program," IADC, API, NOIA and IPAA wrote in a letter initiated by IADC and drafted by all four associations.
HR 6082, if enacted into law, also would begin the process of determining how to lease and develop federal resources offshore Virginia.
"It is through drilling exploration activities in the new areas provided by HR 6082 that will lead the country to greater energy security," the letter stated.
For more information about HR 6082, please contact Brian Petty at +1/202-293-0670 (brian.petty@iadc.org).
IADC supports Trans-Pacific Partnership for investment in services
IADC was among 22 organizations that wrote to US Trade Rep. Ron Kirk in June in strong support for a Trans-Pacific Partnership (TPP) agreement that would aim to liberalize cross-border trade and investment in services.
The benefits of raising the level of trade and investment in services across the Pacific has the potential to ripple through the manufacturing and agricultural sectors as well, given the "TPP includes disciplines and market-access commitments that support the services sector, building upon high standards achieved through existing bilateral and plurilateral free trade agreements (FTAs) between the US and its trading partners," the letter stated. The services sector accounts for 70% of world economic output and 70% of employment.
The organizations suggest the TPP should address:
High standards achieved in services, financial services, investment and intellectual property in recent FTAs;
New and increasing challenges in the international economy, which have the potential to distort trade and investment and undermine the competitive opportunities for US enterprises;
Express delivery services to strengthen and improve previous FTAs, maintaining standards and not diluting them;
Cross-border information flows that do not mandate the use of local computing infrastructure and that digital products are not subject to customs duties and fees; and
Rules to prohibit regulations requiring local content for service providers, as well as prohibit requirement that business services be provided locally.
TPP members, including Canada and Mexico, accounted for more than $823 billion in worldwide services exports in 2010. In the US alone, about 80% of the Gross Domestic Product and 80% of employment are in services, where US services exports in 2011 totaled $589 billion – more than the combined sums of the second-ranked Germany and third-ranked Britain.
"The price and quality of services also influence costs and productivity in other sectors of each economy," the groups stated. "Thus, when liberalized and made more efficient, services have a strong multiplier effect on the competitiveness of every economy," the letter stated.
Charities benefit from NSC annual safety awards fundraising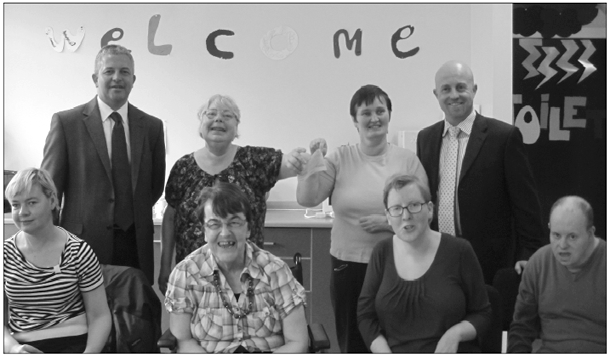 In addition to the £23,500 donated recently to two Scottish charities, the IADC North Sea Chapter (NSC) has donated an additional £7,000 to two more charities – Archway and Befriend a Child. Funds raised at the chapter's annual safety awards ceremony in May were matched by the NSC, totaling £10,500. The Children's Hospice Association of Scotland (CHAS) was the third charity, also receiving £3,500.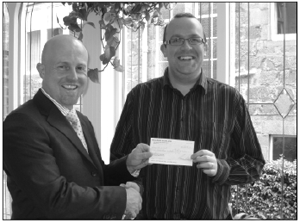 Checks were accepted on behalf of Archway by Janine Davies and Archway residents Jennifer and Caroline, and on behalf of Befriend a Child by Andrew Reid.
NSC chairman Jon Richards of Diamond Offshore Drilling presented the checks along with current co-chairmen Darren Sutherland, Prospector Drilling, and Gavin Sutherland, KCA DEUTAG. They acknowledged the generous donations made by NSC members.
The chapter also recently donated £20,000 to the Aberdeen branch of RNLI from NSC funds.
Image Details: TOP: Archway residents Jennifer and Caroline (back row, center) accept the donation check from NSC co-chairmen Gavin Sutherland (back row, left) and Darren Sutherland (back row, right). Archway offers care and support to more than 200 people with learning disabilities. LEFT: Darren Sutherland (left) presents a check to Andrew Reid of Befriend a Child. The group provides long-term child-centered support for disadvantaged children in Aberdeen.
BLM fracturing rule comment time extended
On 11 May 2012, the US Bureau of Land Management (BLM) published in the Federal Register a proposed rule to regulate hydraulic fracturing on public and Indian lands. The rule would require public disclosure of chemicals used in hydraulic fracturing on those lands, strengthen regulations related to wellbore integrity and address issues related to flowback water.
This rule is aimed at providing useful information to the public and to help ensure that hydraulic fracturing is conducted in a way that adequately protects the environment.
Due to the complexity of the rule and the issues surrounding it, the BLM is extending the comment period for 60 days. The comment period will now close on 10 September 2012.
For more information about the BLM rule or how to submit comment, please contact Joe Hurt at ext 224 (joe.hurt@iadc.org).
IADC boosts ACD with two new employees
Two employees have joined IADC's Accreditation and Certification Department (ACD). Brooke Comeaux has been named competence and learning development specialist, and Alma Roberts will serve as accreditation and certification coordinator.
Ms Comeaux's responsibilities include development and upgrades of IADC's various training programs, new technology integration and program coordination. She is a graduate of McNeese State University, where she earned a bachelor's degree in education. In addition, she has a Master of Education degree in technology leadership from McNeese State and a Master of Education degree from Stephen F. Austin University in education administration. Ms Comeaux has worked as a teacher and as a technology project coordinator in a local school system.
Ms Roberts will be primarily responsible for managing the IADC Rig Pass program. She attended El Camino College in Torrance, Calif., and specialized in finance and accounting. She has 18 years of banking experience, most recently as a relationship liaison at Zions Bancorporation, where she provided specialized support to more than 200 banking centers in Texas and California.
Brooke Comeaux can be reached at ext 247 (brooke.comeaux@iadc.org), and Alma Roberts can be reached at ext 324 (alma.roberts@iadc.org).
IADC leaders visit Maersk training center
Stephen Colville, IADC president and CEO, and Jens Hoffmark, IADC regional VP of European operations, visited companies and authorities within the Danish oil and gas industry last month.
One highlight was a visit to the Maersk training center in Svendborg. The company is in the process of building a US $10 million dome simulator, which will be among the world's most advanced. Maersk Drilling expects the new simulator will enhance the skills of the crew and thereby increase safety onboard the rigs. The simulator training will be available for Maersk crews as well as third-party contractors; the simulator will be inaugurated in October.
Image Details: Stephen Colville, IADC president and CEO, operates a drilling rig simulator during a visit to the Maersk training center in Svenborg.
Pertgen named IADC director, offshore affairs
John Pertgen has been promoted to director – offshore regulatory & technical affairs. He joined IADC in 2006 as assistant director – offshore technical and regulatory affairs.
Mr Pertgen's responsibilities involve identifying and responding to national technical and regulatory proposals and initiatives, serving as liaison to IADC committees, and participating in industry work groups as the IADC representative. Mr Pertgen joined the offshore industry after retiring from the US Coast Guard, where he became an experienced marine inspector, investigating officer and engineering officer.
John Pertgen can be reached at ext 203 (john.pertgen@iadc.org).
Safety Alerts
For the latest safety alerts, visit www.iadc.org/safety-alerts
Alert 12-17: Sudden slewing of crane boom dislodges load.
Alert 12-18: Loose machine guarding results in minor injury.
Reminders
IADC ART Future Technology Subcommittee meeting, 28 Aug, Houston.
IADC UBO & MPD Committee meeting, 10-12 Sept, Houston.
IADC Ethics Committee meeting, 19 Sept, Houston.
IADC Drilling HSE Europe 2012 Conference & Exhibition, 26-27 Sept, Amsterdam.
IADC HSE Case Users Group meeting, 28 Sept, Amsterdam.
Rigs Receive ISP Certificates
For certificates received since last LTI (in years):

Atwood Oceanics: Atwood Beacon (7);
Ensco: Ensco 56 (7); Ensco 71 (1); Ensco 72 (1); Ensco 86 (6); Ensco 5001 (1); Ensco 8505 (1); Ensco DS-1 (1); Ensco DS-2 (1);
KCA DEUTAG Drilling Russia: T-2000 (3);
Nabors Offshore Corp: Nabors BR-300 (10); Nabors MODS-140 (10); Nabors New Iberia Yard (10);
UMW JDC Drilling Sdn Bhd: Naga 1 (12);
Union Drilling Inc: Rigs 21 (1); 44 (1); 52 (2); 53 (1); 54 (2); 58 (2); 59 (1); 60 (1); 110 (5); 116 (2); 121 (1); 122 (2); 123 (1); 124 (2); 125 (2); 126 (1); 206 (1); 210 (2); 211 (3); 216 (3); 219 (2); 222 (1); 224 (1); 225 (1); 226 (2); 227 (1); 228 (1); 229 (1).
For certificates received since last recordable incident (in years):
Atwood Oceanics: Atwood Aurora (1); Atwood Beacon (1);
Cactus Drilling Co LLC: Rigs 101 (2); 123 (1); 133 (4); 135 (2); 136 (2); 139 (1); 141 (1); 143 (1); 145 (1); 148 (2); 152 (1);
Ensco: Ensco 53 (2); Ensco 67 (1); Ensco 71 (2); Ensco 5005 (1); Ensco 8505 (1); Ensco DS-1 (1);
Keen Energy Services: Rigs 24 (1); 26 (1); 29 (1); 36 (2); 40 (1);
Mermaid Drilling Ltd: MTR 2 (1);
Northern Offshore: Energy Endeavour (1);
Parker Drilling Co: Orlan Platform (1);
Unit Drilling Co: Rigs 8 (1); 118 (1); 128 (1); 134 (2); 150 (1); 301 (1); 366 (1);
Unit Texas Drilling Co LLC: Rig 325 (2).
New IADC Members
IADC welcomes 32 new members:

ABS Consulting, Houston, Texas;
ACE-OCTG FZCO, Dubai, United Arab Emirates;
Ada Energy Services LLC, Ada, Okla.;
Alshaleif International Group for Trading & Investment, San'a, Yemen;
Australian Well Control Centre Pty Ltd, Blackwood, Australia;
Biochematics, Houston, Texas;
Bravo Land Drilling, Ciudad del Carmen, Campeche, Mexico;
Bronco Manufacturing, Houston, Texas;
Certified Training & Safety Inc, Port Lavaca, Texas;
CNPC USA, Houston, Texas;
Consorcio Tecnico de Mantenimiento Industrial, Protección Ambiental, Consultoría y Capacitación S de RL de CV, Villahermosa, Tabasco, Mexico;
Diamond Tank Rental Inc & Transportation, Odessa, Texas;
Drill Maak for Drilling & Workover, San'a, Yemen;
First National Capital LLC, Foothill Ranch, Calif.;
Foley Engineering LLC, Lafayette, La.;
FOX Engenharia Consultoria e Trenamentos On & Offshore, Macae, Rio de Janeiro, Brazil;
Gulf Coast Reliability DBA Lubrication Engineers, Sugar Land, Texas;
Harness Training Pty Ltd, Murarrie, Australia;
HCC Corporate College, Houston, Texas;
HSE Training Solutions SAS, Bogota, Cundinamarca, Colombia;
KTM Services Inc, Houston, Texas;
Middle East Builders Mechanical Group, Dubai, United Arab Emirates;
New Mexico Junior College, Hobbs, N.M.;
NSH Asia Drilling LLC, Polazna, Russia;
Performance Drilling Consultants, Hong Kong, China;
Qualified Specialists LLC, Houston, Texas;
Silverline Engineering & Constructions Pvt Ltd, Maharashtra, Mumbai, India;
TC Safety Inc, Midland, Texas;
TCM Offshore, Houston, Texas;
Terra Directional Services, Spring, Texas;
Viking Sea Tech, Aberdeen, United Kingdom;
Well Control Group, Edmonton, Alberta, Canada.
DRILLBITS Volume 22, Number 8
Dan Rabun, Chairman • Stephen Colville, President and CEO • Linda Hsieh, Editor
All listed phone extensions are for IADC's Houston headquarters,
+1/713-292-1945. Fax +1/713-292-1946.
Send comments/questions to Amy Rose at amy.rose@iadc.org.
To subscribe to Drill Bits, go to www.iadc.org/drillbits.
To change/cancel a Drill Bits subscription, send an e-mail message to IADC Director – Membership Sharon Thorpe at sharon.thorpe@iadc.org.