RigPass Program FAQ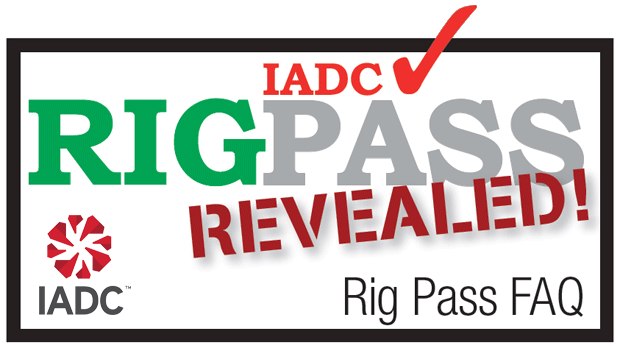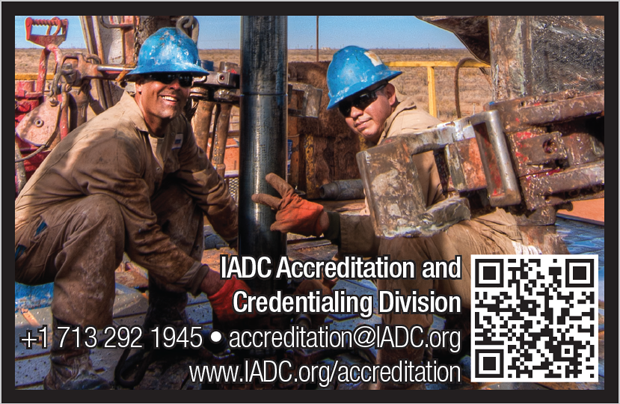 Q. What is RigPass?
 IADC Rig Pass is a standardized safety orientation program for all oil and gas operations, whether onshore or offshore, that is independently audited and accredited.
Q. Who developed RigPass?
 RigPass was developed and is overseen by oil and gas industry HSE professionals under the auspices of the International Association of Drilling Contractors, a nonprofit association formed in 1940 whose mission is to catalyze improved performance by improving HSE and training; enhance drilling technology; and championing sensible legislation and regulation.
Q. Is RigPass recognized within the industry?
 Yes. RigPass is a leading safety curriculum globally recognized and accepted wherever oil and gas operations exist. Further, RigPass is endorsed by two U.S. operator organizations: SafeLandUSA and SafeGulf. (Additional administrative requirements apply for the SafeGulf or SafeLandUSA endorsement.) In addition, IADC's accreditation programs are ISO-certified.
Q:  Does my RigPass Program have to be SafeLandUSA and/or SafeGulf accredited?
 No, SafeLandUSA and/or SafeGulf are specific accreditations to meet additional recordkeeping requirements of certain U.S. oil and gas companies.  RigPass meets or exceeds the majority of oil and gas companies requirements.
Q. Who conducts RigPass training?
 RigPass training is conducted by companies and training organizations accredited by IADC under the RigPass program. Presently there are more than 220 companies accredited to deliver the RigPass orientation in 31 countries.
Q. Does IADC conduct RigPass training?
 No. IADC only accredits company and third-party trainers. No conflict of interest therefore exists between IADC's accreditation and IADC-offered training courses, since the latter do not exist. And, as mentioned earlier, RigPass-accredited institutions are audited by independent personnel or IADC staff who are certified auditors. This ensures end users that all relationships between trainers, auditors and IADC are transparent and above board.
Q. Are fees and other information easily available?
 Yes. IADC is totally transparent regarding requirements, fees, and all other information necessary to participate in the Rig Pass program. It is an even playing field. IADC does not require anyone to submit a form to learn the answers to these questions. This is true for all IADC accreditation programs. All forms and documents needed to understand the requirements of RigPass accreditation or to apply for accreditation are available on the IADC RigPass website: http://dev2.iadc.org/iadc-rig-pass/.
Q. How are trainers approved?
 Trainer qualifications are established by IADC members worldwide working through the IADC HSE Committee. This assures a global standard. Approval of the training program and the instructors who will deliver the training is achieved by an independent panel of oil and gas industry professionals. We do not require prospective RigPass Trainers to undergo training (train-the-trainer) through IADC.
Q. Must a training institution or provider pay additionally for updates to the program?
 No. The application fee covers the initial accreditation, plus updates to the program. A nominal annual fee is charged for program maintenance. There are no hidden fees and no additional fee for updating the training institution's RigPass-accredited program. The training institution builds its own training course to meet IADC's RigPass standard. When updates are required (for whatever reason updating is required), the training provider chooses how it will meet the new requirements.
Q. Is a training institution charged for audits?
 Yes. To cover expenses, IADC must charge for audits. However, audit fees are only levied when an audit actually occurs. No RigPass-accredited institutions are charged for audits that do not occur.
Q. In what geographic regions are RigPass courses offered?
 RigPass is offered worldwide wherever oil and gas operations exist. It is a global program.
Q. I have my own training program that mirrors the SafeLandUSA and SafeGulf curricula.  Can I have my program accredited through IADC and continue to teach my course?
 Yes.  IADC can accredit your program as long as it meets the minimum requirements of the RigPass standard. Remember that additional requirements apply if SafeLandUSA or SafeGulf endorsement is sought.
Q. Does IADC have RigPass course content that I can purchase from IADC and, if so, can I customize the program to meet the needs of my company or operations?
 Yes.  You can purchase RigPass-to-Go from IADC and customize the program to meet your operations, as long as required content is not deleted and your revisions continue to follow the topics and RigPass requirements. RigPass-to-Go also satisfies the requirements of SafeLandUSA and SafeGulf. IADC provides updates to the course package as curriculum requirements change. RigPass-to-Go is available in both English and Spanish.
Additional RigPass Information
IADC incident statistics reveal that rig employees on the job less than 6 months are the most likely to suffer an accident. But experienced hands are at risk, as well. Even seasoned employees can become complacent or cut corners to speed work.
IADC RigPass can make a difference for both.
As the industry's leading program for safety orientation, IADC RigPass is a flexible tool to orient new hires and to reinforce safe behaviors for experienced hands.
Employers can be confident that an individual who has completed an accredited IADC RigPass or IADC RigPass-to-Go program has met basic safety orientation requirements defined by drilling-industry safety and training professionals.
IADC's team of independent technical experts review and evaluate every IADC-accredited RigPass program. Site visits and up-to-date audit histories are central to the IADC RigPass system.
Also, IADC RigPass is endorsed by SafeGulf and SafeLandUSA.*
Keep your team working safely. Go RigPass today.
RigPass-to-Go
Have a small training organization? Consider IADC RigPass-to-Go, pre-packaged for quick start ups. The pre-approved RigPass curriculum is suitable for delivery in the classroom, on the rig or on the road, with interactive learning exercises and an innovative point and click "Mind Map" system. Compliant with SafeGulf and SafeLandUSA.*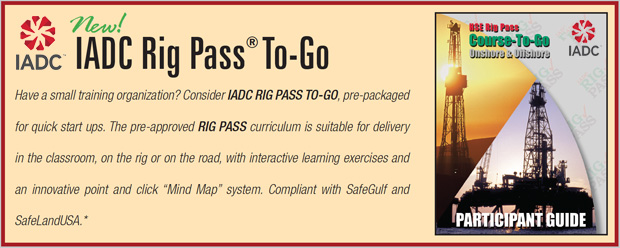 *Additional requirements apply. Credentials are issued by the accredited training providers.