IADC Drilling HSE&T Europe 2020 Conference & Exhibition
Start: 16 September 2020
End: 17 September 2020
Venue: Marriott Amsterdam Hotel
Location: Amsterdam, The Netherlands
Conference Endorsers
Registration Information
Click Here To Register Online For This Event
Registration fee: € 750 Member / € 937 Non-Member.
Federal government employees may be eligible for a 50% discount on conference registration.
Speakers, sponsors and guests are not eligible for online registration. (Please contact europe@iadc.org to obtain the correct registration form).
Conference Links
For registration inquiries, please contact europe@iadc.org / + 31.24.675.2252
Introduction
Get ready for another interactive, high quality IADC Drilling HSE&T Europe 2020 Conference & Exhibition! Following up on the 2019 conference, we continue with dynamic and valuable sessions, that will provide attendees with insights into industry-leading HSE&T trends. In addition to offering high-quality informational presentations by subject matter experts, parts of the conference will be dedicated to highly interactive break-out sessions to stimulate discussions and new ideas and to engage all participants to create a true learning environment. This conference will serve as an indispensable forum to drive discussion of critical topics, such as training and developing the next-generation talent and leveraging digital technologies to further improve the industry's safety performance.
Call for Abstracts: Expires 20 March
The International Association of Drilling Contractors (IADC) is pleased to issue a call for abstracts for presentations at the upcoming IADC Drilling HSE&T Europe 2020 Conference & Exhibition in Amsterdam. We invite the industry to submit abstracts for presentations that align with our new vision for the conference. We welcome presentations that will provide substantial and practical information on timely HSE&T topics, while at the same time engaging – and even challenging – the audience to ask questions that will inspire thought-provoking discussions.
Suggested topics are outlined below, but other relevant topics are welcome, as well.
Future Energy Mix: The market predicts a need to drill wells until 2050. The near future will require a mix of alternative energy and fossil fuels. The 'green transition' has started and opens the discussion of the future of oil & gas. There will be a major shift in primary energy, renewables will dominate in 2050 but oil & gas will play an important role in this future energy mix. What will be the role of the Drilling Contractors in this process?
Recruiting the Next Generation: We want to hear from young professionals and students! How can the oil and gas industry make itself more attractive to next-generation talent? What are students' perceptions of oil and gas careers, and how do we compare with other industries vying for the same talent? What is being taught at universities today, and how can curriculums be more fully aligned with evolving industry operations? How can experienced industry professionals pass on their knowledge while still giving young professionals space to innovate? Recent graduates and university students are especially encouraged to share their perspectives.
Rig Reactivation-New Startups: The industry is starting to see a few rig reactivations take place here and there, pointing to the potential for a healthier rig market in the next two to three years. As the industry works to bring more stacked rigs back into operation, new recruits will have to be on boarded and trained, safe behaviors will have to be taught and reinforced. We encourage you to present case studies and lessons learned on how rig reactivations can be completed as efficiently as possible, without incurring any safety incidents.
Environmental Protection and the Social License to Operate: As the industry seeks to tap hydrocarbon resources in frontier offshore areas like the Barents Sea and in unconventional onshore basins, the drilling industry must keep environmental protection at the forefront or risk losing its social license to operate. What technical advances are available to drilling contractors to ensure sustainable operations? How can challenges around hydraulic fracturing be addressed? Presentations on cost-effective ways to reduce drilling's environmental impact, including in sensitive areas, are welcome.
Decommissioning of Wells: Decommissioning of offshore oil and gas fields, infrastructure and wells will increase in the coming decades. The large number of fields that were developed in the 1970'es and 1980'es are coming to the end of their lives. In the Gulf of Mexico, a large number of structures were taken out of service in the past decade and another wave is approaching. In the North Sea, up to 10,000 wells will likely be decommissioned in the next three decades. Corresponding numbers for other areas are: 7,000 wells in Southeast Asia, 4,000 in Latin America, 3,000 in West Africa and 3,000 in the Arabian Gulf. In many cases, decommissioning of wells accounts for more than half the total decommissioning costs, which for the North Sea alone are expected to reach well over $100 billion.
We are looking for papers, which will give further insight into the scale of the challenge ahead and how this may change what our member companies will be focusing on. We are further looking for papers about well decommissioning projects in general as well as papers describing successful campaign solutions.
Human Factors: For all the big steel and cutting-edge technologies this industry has, it's still the human factors that often define our successes and failures. There is already an increasing focus on non-technical skills – decision making, communication, teamwork, leadership, situation awareness and fatigue management – but much more needs to be done in terms of how to integrate this knowledge into employee training. We are looking for case studies on how companies enrolled their Human Performance plans, what were the hick-ups and what were the results.
Health: A healthy workforce is a productive workforce. By creating a positive, safe and healthy environment for employees, companies can improve workforce engagement, improve employees' work-life balance and even improve business performance. Case studies related to vitality, fitness for work and practical occupational health are welcome.
NOTE: Selected abstracts might be assigned to interactive panel discussions, rather than scheduled as conventional presentations.
For consideration, an abstract for each proposed paper must be submitted to IADC no later than 20 March 2020. 
Authors of papers selected will receive confirmation letters and guidelines by Mid-April 2020. Please note that formal papers will be accepted but are NOT required for this conference. Prior to paper proposal submission, management clearance must be obtained. Any issues concerning clearance should be outlined when the paper proposal is submitted.
We look forward to your participation and hope to see you at this important event!
Click Here to submit your abstract
Click here to view General Guidelines for IADC Abstract Submissions
TIPS FOR A GOOD ABSTRACT AND PRESENTATION: Communicate the strategic value of your proposal. Use Case Studies to the greatest extent possible. Conclude the presentation by summarizing the Big Idea encapsulated in your talk and its ultimate impact. Further, IADC World Drilling prizes diversity in ethnicity and gender.
Toggle
Conference Program Committee
Norbert van Beelen, Shell International
Chiara Bernardelli, Saipem
Rachel Burton, Shell International
Neil Easton, Baker Hughes
Peter Smith, Seadrill Management
Adam Hess, Transocean
Jennifer Medcalf, REACH
Bruce Kain, Northern Offshore
Phil Webb, BP Exploration
Erik Roesen Larsen, Maersk Drilling
Craig Martin, Valaris plc
Janike Myre, Odfjell Drilling
Lamberto Nonno, Baker Hughes
Barry Quinn, Noble Drilling
Jeremy Townshend, KCA Deutag
Jaap van der Sijp, State Supervision of Mines
Stuart Clow, IADC
Lars Nydahl Jorgensen, IADC
Sponsorship Opportunities
There are four levels of sponsoring: Diamond sponsors, Platinum Sponsors, Gold Sponsors, and Silver Sponsors. Event sponsorships are also available and will be categorized by monetary contribution with the appropriate level of sponsorship. Please find the benefits of the sponsor packages below. The conference sponsor will receive high profile recognition before, during and after the conference.

Diamond Euro 25,000
(10 Comps*)

Platinum Euro 15,000
(5 Comps*)

Gold Euro 12,000
(3 Comps*)

Silver Euro 7,500
(2 Comps*)

Reception Euro 12,000
(3 Comps*)

Luncheon Euro 6,500
(2 Comps*)

Audio Visuals Euro 4,000
(1 Comp*)

Coffee Euro 5,000
(1 Comp*)

Conference App Euro 3,500
(1 Comp*)
* Comps refer to number of complimentary registration
Click here to view complete sponsor packages and benefits
Click here to download the sponsor agreement
For more information and sponsor bookings please contact us at europe@iadc.org or phone: +31.24.675.2252
Exhibition Information
The cost of each 2 x 3 meter stand is Euro 2.300. Each standard shell scheme stand will be set with 1 table, 2 chairs, 1 power point, 2 spotlights and 1 fascia with company name. With the stand, you receive 1 complimentary conference registration and up to 2 additional registrations at half price (Euro 375). All registrations are including admission to the conference & exhibition, coffee breaks, luncheons, reception, and access to the conference proceedings.
Exhibitions at IADC events will be limited to showcasing products and services that advance technology, competency or HSE. Exhibitions centered on recruitment or employment should not take space at IADC events. IADC Membership is mandatory for booking an exhibition space at this event. Non-members will receive an USD 200 discount on their IADC Membership when booking exhibition space. IADC Exhibitions will solely be visited by conference attendees. Non-conference attendees are not allowed to enter the exhibition area.
Click here to view the exhibition floor plan
Click here to download the letter of agreement
Reservations can be made by completing the letter of agreement and returning it by e-mail: europe@iadc.org
Exhibition space is being allocated on a first come, first served basis!
Conference Venue & Hotel Information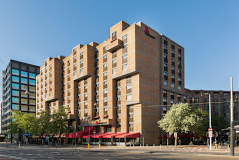 Marriott Amsterdam Hotel
Stadhouderskade 12,
1054 ES   Amsterdam 
The Netherlands
Tel. +31 20 607 55 55
Negotiated Room Rate: € 269,- Deluxe room single use or €289,- Deluxe room double use, incl. Breakfast and Internet. 9% VAT included in hotel room rates. 7% City Tax is not includes in hotel room rates. The IADC room block will expire 3 August 2020. We advise you to make your reservations timely to be ensured of a sleeping room.
Reservations: Can be made online by following this link to the Hotel Reservation page.
Cancellation Policy: Cancellation of the room can be done without penalty up to 48 hours prior to arrival.
Warning: Please note that there are several 3rd party companies actively approaching conference delegates and exhibitors by phone and email trying to sell hotel rooms at the contracted hotel for a cheaper rate than the published rate on this conference website. Please note that these companies do not represent IADC or the hotel, nor has IADC or the hotel authorized them to use their names or trademarks on information they send out to exhibitors and delegates.
To avoid being a victim of fraud, please do not give out your credit card details to any other party and be sure to make your hotel reservations exclusively through the contracted hotel.
Toggle
Press Policy
Complimentary press registration is limited to one (1) person per company. This individual must be a titled editor, writer, reporter or other bona fide editorial representative of a legitimate industry or consumer publication. Publishers and sales and marketing specialists are excluded from this complimentary registration practice and must pay the full conference registration fee to attend an event.
The IADC Drilling HSE&T Europe 2020 Conference & Exhibition is advertised in industry publications media including:
Click the logo to visit:

IADC provides web links as a member service. IADC does not warranty or endorse the accuracy or reliability of any of the information, content, or advertisements contained on websites linked to www.iadc.org or any of its subsidiary pages.
Event Summary
IADC Drilling HSE&T Europe 2020 Conference & Exhibition